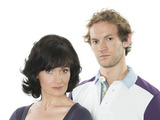 New nurse Chris clearly has a chip on his shoulder due to being a doctor's son, but Mandy soon stops him from taking himself so seriously. Chris starts to get on well with the younger members of the team, and reveals how he has always been a disappointment to his mum.
At the same time, Emma watches on, pleased that Chris has made friends - but regretful that being colleagues hasn't pushed them closer together.
Meanwhile, Franklyn uses a variety of drinking games and activities to chivvy Jimmi out of his depression. It works for a while, but Jimmi soon becomes morose - he loved Cherry and lost her, so now he needs the courage to face that rather than avoid it with booze and silliness! Franklyn bursts out laughing and Jimmi soon follows suit.
Elsewhere, Valerie's own 'Who do you think you are?' experience doesn't quite go according to plan when she doorsteps a distant relative.