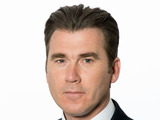 At The Mill, most of the staff are horrified to discover that they're going to be doing team building military style. As Jas has phoned in sick, Valerie is delighted to be drafted in. At an alarmingly difficult assault course, Howard says he'll make soldiers of them yet.
Later, following a challenging day for all concerned, a napping Howard is left behind when the minibus leaves without him.
Meanwhile, Rob is dismayed to discover that he is the only policeman to have grown a moustache for Movember. He has to spend the day sorting through tedious files with Jimmi, but is later thrilled when DCI Driver offers him an attachment in CID.