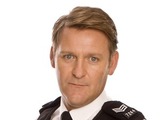 Rob and DCI Driver go undercover to attend a Letherbridge Adoption Action meeting, with DI Terry Wood and DC Lucy as back up. Disappointed when they make no contact with the fake adopters, they proceed to the café where previous couples were approached. The pair play out a rehearsed argument but it's starting to look like they've missed their targets.
Soon afterwards, Andrei approaches 'Lyn'. He introduces himself by explaining that he's from Kovenia, a small Eastern European country with many abandoned children - he helps find them loving homes. Rob plays the sceptic while Driver acts as the emotional woman, and by the end Andrei takes their details and promises to be in touch. But as they celebrate, DI Wood enters to admit that they lost his trail as they tried to follow him. Driver and Rob are deflated, but at least they have made contact.
Meanwhile, Aran turns up at the surgery and invites Jas out for dinner that evening. Sensing her reluctance, he asks her if she wants to call the whole thing off. Feeling guilty about messing him around, Jas insists that she doesn't and they spend an awkward evening together in a bad restaurant.
Later, Aran tries to test Jas's commitment by suggesting sex. Jas is quick to say that she has to be up early the next morning, and so Aran gets up and suggests they call it a day. Jas insists that she does want to be with him, but Aran is no fool and ends things, suggesting that she's only with him because she is scared of being alone.
Elsewhere, Chris attempts to cheer Mandy up.