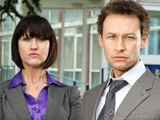 Jimmi is leaving St Phils when he meets Susie Lowther (34) coming in with a newborn in a sling and carrying a box of chocolates and a shoulder bag. He asks where she has been and she tells him she had a private midwife and a homebirth.
Meanwhile Eva is at the station with the new PC on attachment and top gun at the academy PC Ray Keane (24). Everything he does seems to annoy Eva.
In the maternity wards Ruby Walker (30 NSE) heads past the nurses desk on her way to the bathroom. On the CCTV monitor we can see two people waiting to be let in. the door is buzzed open and an NSE male holds the door open for a woman. It is Suzie but this is not clear from the footage.
Eva goes to have a word with Super Int Rugg about PC Keane who is doing her head in. Rugg is opening an envelope he is not pleased by what he sees. Eva reads it and wishes him a Happy silver wedding. Ruby returns from the bathroom to find that her baby is gone.
There is a fancy dress party tonight and Rugg and Mrs Rugg are going as Siegfried and Brunhilda. Ray is enlightening Rugg as to who they are when Eva rushes in with news of the missing baby. Eva and Ray are assigned to the case.
Sgt Phil Lowther (35) arrives home in uniform, he is back from his last tour of duty. He hasn't seen his baby before. The news of the kidnapped baby comes on the radio but Susie switches it off as she shows Phil his son.
Eva arrives at the hospital, the place is crawling with press and she sees Jimmi giving a statement to a uniformed officer. He tells her about seeing his patient and her baby and that she had a box of chocolates with her.
Susie is trying to comfort baby David, Phil sits down to watch tv and we see Rugg holding a press conference asking for information about the missing baby Alexander. Phil thinks they should call the doctor but Susie seems reluctant. Jimmi arrives at the Lowthers to check baby David. He asks questions about health visitors and David's routine that Susie seems uncertain about.
The police investigation continues with all but one of the people on the CCTV footage having been identified and ruled out. Eva sends Ray out to do door to door.
Phil tells Jimmi that he hasn't seen Susie for 6 months and that they have been together for 18 months but have only seen each other for a couple of those and they only got married because Susie was pregnant. Ray is at the Susie's door she is showing him her scan photos. He doesn't notice anything untoward. Eva and Ray are going over the enhanced CCTV footage and see the woman with the box of chocolate. Jimmi is at the Mill and makes a call about Susie when he hangs up his phone rings again, its Eva. At the police station Jimmi looking at the footage but is not certain if it is Susie. They identify the fact that there was a specific reason why a boy was stolen and not a girl. Jimmi recalls how desperate for a son Phil Lowther was.
Eva, Jimmi and Ray go to the Lowther house. Susie is not there but Phil is. Ray starts to search the kitchen and finds a carrier bag with a doll under the sink. We see a flashback to Susie stealing baby Alexander. Phil is reluctant to believe it but Jimmi says Susie dropped of the radar after 14th week of pregnancy and surmises that it is likely she had a miscarriage. Susie calls Phils mobile and they argue, he leaves but hands Jimmi the phone. Susie threatens to kill herself and the baby. We can hear a train and level crossing bells in the background. We see Susie drive her car onto the level crossing. Eva, Jimmi and Ray arrive at the level crossing, a train is due in 4 minutes. Eva calls Susie's mobile and tries to show she understands how she feels.
Eva approaches the car with a bag containing food for the baby as Jimmi approaches the car from behind. Susie gets out of the car to get the food as Jimmi and Ray dash towards the car, Jimmi manages to get in the drivers seat as Ray tries to get the baby out of the car seat. Ray manages to get the baby out as he throws the keys to Jimmi. Jimmi struggles to start the car as Susie gets back in and starts to attack him. The train is bearing down on them, the driver slams on the breaks as Jimmi accelerates backwards off the track into a gate. Jimmi has cut his head on the steering wheel but both him and Susie are safe. Back up and ambulances arrive on scene as Eva gives an impromptu press conference. Eva says she may have misjudged Ray, he is pleased.
Back at the police station Ray has bought a gift for Mrs Rugg from Mr Rugg. Jimmi arrives to much applause. Eva says she will miss the station when she leaves and is shocked when Jimmi asks her not to go.