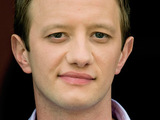 River City
star
Gordon McCorkell
is to leave the soap, it has been announced.
The actor, who plays Deek Henderson, will be written out with co-star Claire Knight, who plays bigamist Iona McIntyre in the BBC Scotland show.
Writers have promised an explosive exit storyline for the pair.
"It's been an absolute pleasure playing Deek," McCorkell told
The Scottish Sun
.
"I am hugely excited about the storyline coming up and know it will be a fitting send-off for him."
Knight added: "You never know, Iona might not be saying 'cheerio' forever."
River City
producer Graeme Gordon said viewers can expect "emotional exits".
McCorkell joined the show when it launched ten years ago.
Pamela Byrne, who played Hayley McCrone, filmed her final scenes for the soap in April.