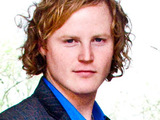 It's the day before the wedding, and Edward is continuing to put pressure on Robbie to take the money and leave his son alone. Robbie tries to put thoughts of Edward out of his mind at the rehearsal for the wedding, and when he arrives back in Shieldinch to find Hayley and Tom there, he soon gets caught up in the excitement again - particularly as Hayley announces that she is pregnant.
However, later at the Tall Ship, Edward is at it again and Robbie turns to drink to get him through the evening, which greatly annoys Will. The next day, Will is suspicious of Robbie's behaviour and it soon become obvious that his father might be behind it, leaving both Will and Robbie questioning whether getting married is such a good idea after all.
Meanwhile, Christina is trying her best to put everything back to normal with Nicole after their kiss, but Nicole is doing everything she can to exclude her from the gang. Nicole is getting particularly friendly with Alice and decides she should set her up so they can double date - and this keeps Alice from sniffing around Stevie too. However, what Nicole doesn't realise is that Stevie is not Alice's type at all.
Elsewhere, Scarlett is taking Madonna to her first ballet class and has bought her a new tutu and shoes for the occasion. When they get to the class Madonna isn't keen, but Scarlett promises her a treat afterwards and she heads off happily. Scarlett is quick to point out the other pushy mums to Stella and they both laugh at how bad they are. However, when Madonna stumbles over and hurts her leg, Scarlett is more concerned that she won't be able to audition for the school nativity play. Pushy mum syndrome could be rubbing off on Scarlett.