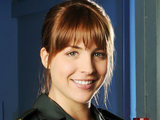 Casualty
star
Gemma Atkinson
has revealed that she is searching for work in the US.
The actress recently finished filming a three-month stint in the role of Tamzin on the BBC medical drama and is now on the hunt for new projects.
Atkinson has signed up with a US-based management firm and is preparing for a series of meetings with TV and film executives across the pond, the
Manchester Evening News
reports.
"It's exciting and I'm just going to go with an open mind about what's available out there," Atkinson told the newspaper.
"I'd love to work out there, but I wouldn't want to live out there permanently, I'd get too homesick!"
The former
Hollyoaks
cast member has also been involved with a number of films in recent months, including working as a co-producer on upcoming British movie
Airborne
.
Atkinson said: "Producing was great because you see things from a different angle, and you feel a bit more important... In future I'd maybe like a shot at directing and I have always been interested in that side of things as well."
Casualty
fans were first introduced to Tamzin last month.
> Gemma Atkinson: 'I asked for Casualty paramedic role'
> Read more Casualty news and spoilers