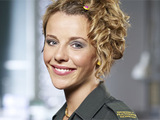 In this special real-time episode of
Casualty
, Polly has been stabbed by the unstable Hannah and is bleeding in the basement.
Hannah finds Dylan to explain but he won't listen. And he's hidden his dog Dervla in the basement, so is reluctant to let anyone go down there.
Dylan becomes concerned when Polly fails to return his calls and when her phone is found in Hannah's cubicle, Dylan confronts Hannah, who pulls a bloody knife on him. Alarmed, he orders Jay to go down to the basement - Polly's been hurt.
Will the medics find Polly before her life ebbs away? And how will the day's tumultuous events impact upon Jordan's career prospects?