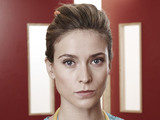 When a female cage fighter is wheeled into the ED after collapsing at the gym, Sam immediately recognises her as her spar partner and friend Melanie.
Keen to get back to the gym as quickly as possible to prepare for her championship fight, Melanie pushes Tom to the limit as she refuses to take his medical advice.
Will Melanie risk her health and possibly her life to go for the title and become number one?
Meanwhile, bride-to-be Rebecca prepares for her big day, not suspecting that a key component of the wedding has gone missing. How will Linda deal with the situation?