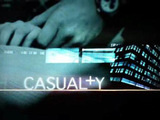 As Ryan Bradshaw heads out to meet his girlfriend's daughter for the first time, he gets the shock of his life as an old acquaintance named Connor turns up at the same restaurant.
While Ryan tries to remain calm, Connor makes a run for it, quickly ending up in the ED. But what spooked Connor, and how is he linked to Ryan?
Back in the ED, medical student Annie presents with a broken arm after a big night out, but is it just a hangover or something more serious?
Meanwhile, Lloyd also spends the day suffering after Fletch shows him a night on the tiles.