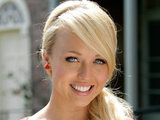 Hollyoaks
' Theresa McQueen faces terrible danger in late-night spinoff
Hollyoaks Later
next week as evil Silas Blissett lines her up as his next victim.
Missing her chance to attend Mercedes's hen celebrations in Ibiza after heading to the airport with the wrong passport, Theresa realises that she'll have to find her own fun at home in Chester. However, with Will still too shy to reveal his true feelings for her, Theresa makes a potentially deadly mistake by signing up for an online dating site.
When Will learns of Theresa's internet antics, he finds himself sharing his love life woes with Silas, who encourages him to set up a fake profile to check on the blonde. As Will agrees and creates an online alter ego named Juan with Silas pulling the strings for his own sinister purposes, could Theresa be making a date with death?
Jorgie Porter
, who plays Theresa, recently caught up with
Digital Spy
to chat about the storyline and what it was like to film this year's
Hollyoaks Later
.
You've starred in Hollyoaks Later for the past three years, so is it always nice to be chosen for the late-night episodes?
"Definitely - I absolutely love the late-night episodes as they're so much fun.
Hollyoaks Later
is literally a completely separate show and it's treated that way by the team. The cast and crew really focus on it, and it's great because we get to do some more risky things, we get a bit sexier and make things a bit darker."
How does the filming schedule compare to the main show?
"It does take longer to film as each of the episodes runs for an hour. So my summer just disappears! For the past few years, I've forgotten what the sun's like. But to be honest, I'm not really missing much with the weather, am I?"
The storyline sees Theresa left behind as the McQueens head to Ibiza. Were you disappointed not to be involved in the on-location filming abroad?
"I was so gutted! They were telling us the McQueens were going to Ibiza and I was thinking, 'Oh my God - it's going to be the best thing ever!' We've always said constantly that the McQueens should just go away on holiday for a week and it would just be amazing with all of the girls around the pool and having fun. But then all of a sudden I found out that Theresa wouldn't get to go!"
Did the other girls make you jealous with their holiday stories when they returned?
"Yeah, I know they had a lot of fun out there and they had a big night out for the wrap party, so I really did miss out!"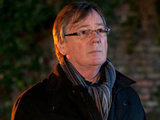 On the plus side, you're being put right at the centre of the Silas storyline…
"I know, it's amazing. I absolutely adore Jeff Rawle - he is a brilliant actor, and even just to talk to him and hang out with him has been so cool. And the storyline is just fantastic! It's really exciting."
How does Theresa's involvement in the Silas plot come about?
"First of all, Myra cheekily pinches Silas's bum before leaving for Ibiza, but she puts Theresa in danger by blaming it on her. Silas always targets girls who he's not happy with because of the way they act. Also, he hates girls who are promiscuous and I think Theresa is probably a prime suspect there! She's always been one for boys, she's desperate for love and attention, and she enjoys receiving men's attention. But Theresa has no idea that Silas is targeting her, so she's just acting normally. Also, Silas is being clever by befriending Will while he's plotting against Theresa."
We see Theresa set up an online dating profile, so does she genuinely want a new boyfriend or is she just trying to make Will jealous?
"I think Theresa just genuinely wants to be in Ibiza and have a holiday romance! She's desperate to just find love for a week. But Silas is involved in the internet profile of the person she makes contact with online, so it's not what Theresa thinks and she's really putting herself in danger…"
Silas has always been quite scary in the main show, but is he even worse in the late-night episodes?
"It is unreal how scary he is! It's funny as Jeff Rawle is such a lovely man in real life. But watching the late-night episodes, you'll just be petrified. It is amazing."
Hollyoaks have worked hard to show the dangers of online dating with this storyline, haven't they?
"Yeah, definitely. With online dating, you should never give your full details out to anyone and you should never meet anybody on your own - ever. In the show,
Hollyoaks
have created a guy who is an absolute nightmare - your worst nightmare! He's horrendous, so hopefully it helps to get the message out."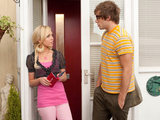 Theresa and Will's relationship is also one of the storylines in Hollyoaks Later. Have you enjoyed portraying their story?
"I absolutely adore it. I think it's great as you would just never expect Theresa to fall for a geek! It's really unexpected. You'll also see a bit of comedy between the two of them in the late-night episodes - there's a bit of fun. You'd expect Theresa and Will to just never be suited, but she really falls for him."
Could Theresa be Silas's next victim?
"There is definitely a chance that could happen! Theresa is definitely who Silas is going after in
Hollyoaks Later
and he usually gets his targets, doesn't he? It's very scary and worrying…"
> Read extra bonus snippets from Hollyoaks' Jorgie Porter in Soap Scoop