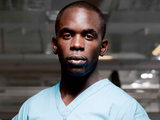 Malick finds himself head-to-head against Serena over a particular case. However, when she gives him full responsibility of the patient, will he be able to cope with the pressure?
Meanwhile, Jac is delighted to be offered a research placement in the States, but her good mood is swiftly dispelled by Jonny doubting her diagnostic skills.
Elsewhere, when Sacha's daughter Rachel comes in complaining of abdominal pain, he is immediately concerned. But when Chrissie discovers that Rachel is missing a history exam, she thinks she is taking advantage of her father's good nature.