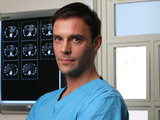 Under the pressure of an outbreak, Luc is determined to make up for missing the legionnaire's diagnosis at any cost. Can he single-handedly identify the source of the outbreak?
Meanwhile, when his father is admitted as a patient, Dan finds it difficult to handle him alongside his new relationship.
Elsewhere, while trying to be both doctor and teacher, Elliot finds one of his particularly eager students difficult to handle.