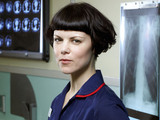 When drugs go missing on the ward, Max is quick to cover and absolve Eddi. However, Sacha is not convinced and has serious concerns about Eddi's mindset.
When a Sickle Cell patient then arrives in need of a heavy dose of pain killers, does Max have her best interests at heart - and is Eddi putting her faith in the right friend?
Meanwhile, Jac refuses to read Tara's research project until she has finished dealing with a particular patient, but when it takes longer than expected, it interferes with her date with Ollie. Tara realises that she will have to face up to Jac. Can she solve the mystery of the patient she's dealing with, and will she have the courage to turn down Jac's help in order to go with Ollie tonight?
Elsewhere, Malick naively thinks that his new students will be a breeze, but is thrown when he realises they get to mark him on his ability as a teacher. Malick tries his own techniques, but an old master has to show him the way.