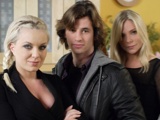 EastEnders
actress
Rita Simons
has teased about the mystery surrounding her new screen brother Danny Mitchell, tipping him as "one to watch" in the coming months.
During last night's edition of the Walford soap, Mitchell sisters Ronnie and Roxy were stunned by the arrival of their secret brother Danny (Liam Bergin) at their father Archie's wake.
Unbeknown to the pair, their mother Glenda (Glynis Barber) fled the family home carrying Archie's unborn child. Since her disappearance, however, Glenda failed to inform her husband or daughters of Danny's existence.
Speaking of the character's arrival, 32-year-old Roxy actress Rita Simons told
DS
: "It's brilliant! We've been saying it for ages that there's a long lost brother who'll turn up. And sure enough, he's here. I'm not sure how trustworthy Danny is but Roxy likes him. He's their baby brother, so Roxy really takes him under her wing and it's Roxy and Danny against the world for a little while."
She went on: "Casting-wise, he's dark-haired and I never imagined for a second that a dark guy could play our brother. I imagined a blonde-haired guy. As it happens, though, he looks a lot like Larry in the face and he's absolutely beautiful. Obviously he'll be a hit with the girls."
Teasing her screen brother's future plotline, Simons added: "He's got a great story. There's loads of mystery that comes with it, so it's definitely one to watch!"
> Future romance for 'EastEnders' Roxy Mitchell?