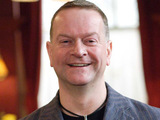 EastEnders
' live episode director
Clive Arnold
has insisted that tonight's special 25th anniversary broadcast is entirely driven by storyline and is not simply a 'gimmick'.
Speaking in an interview with
DS
, Arnold claimed that the soap's team had been sensible in coming up with the idea of the
live instalment
for story purposes alone.
Today's long-awaited edition of the show will feature the
reveal
of who killed Archie Mitchell. The decision to air the murder mystery plot's climax live has helped to maintain the strict secrecy surrounding the storyline, as even the cast member who plays the killer will not be informed until just moments before.
Arnold explained: "When
EastEnders
came to me and said they were going to do a live episode for the 25th anniversary, I was initially very sceptical. But then they explained that the reason for doing it was motivated by story - the identity of Archie Mitchell's killer would remain secret and therefore become a fantastic whodunit.
"We pre-record TV drama for lots of very good reasons and doing a live episode can sometimes come across a little gimmicky, so for me, story is the one and only reason a drama should go live."
EastEnders Live airs tonight at 8pm on BBC One.
> Click here to read Part 1 of our interview with Clive Arnold