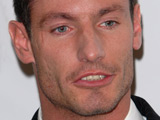 Dean Gaffney
has admitted that he is keen for Peggy Mitchell to be revealed as Archie's killer in
EastEnders
.
The actor, who is back on screen as Walford's Robbie Jackson this week, told
PA
that Barbara Windsor "probably wants it to be her" as it would be "a legacy" for the character.
Viewers will finally discover who killed the Albert Square villain in tomorrow night's live 25th anniversary
episode
. Gaffney's alter ego will not appear in the special instalment.
Discussing the ongoing murder mystery, the star said: "Personally, I'd like it to be Peggy Mitchell. I wouldn't want it to be Ronnie because I feel killing your father is quite a serious thing to do. I know he hasn't been much of a dad but you still have that bond however nasty he's been.
"But he's been a git to Peggy and I think it will be well deserved if it's her. Also Phil Mitchell because she's his mum. I don't think he has been nasty enough to anyone else for them to want to kill him."
On the logistics of the live broadcast, he joked: "If I was on it I'd probably turn to the camera and say, 'Hello mum', or something stupid like that. I think
EastEnders
have been very clever not giving too many people too many lines. And the main people probably won't have lines as long as normal."
> Click here to read more about EastEnders' 25th anniversary