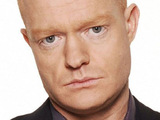 EastEnders
star
Jake Wood
has revealed that he is thrilled with the quality of tonight's
two-hander
episode focusing on Max and Stacey Branning.
In this evening's much-anticipated instalment of the Walford soap, Wood's character Max will come face-to-face with Stacey (Lacey Turner) for their first proper meeting since she told him that she killed Archie Mitchell.
Stacey has been hiding out away from her family in recent weeks, leaving Max to ponder over the role her crime played in the death of his son Bradley, who police now believe was Archie's murderer.
Speaking to
DS
about tonight's episode, Wood promised: "It's amazing. Simon Ashdown's written yet another amazing script. He knows Max and Stacey inside out, so from that point of view, you just want to do the script justice. Hopefully we've done that."
Meanwhile, asked what viewers can expect from the special edition, the actor teased: "There is information that comes out that hasn't been revealed yet, so there are certainly a good few things that you didn't know beforehand. Max and Stacey go over everything that needs to be said."
Earlier this month, reports
said
that the episode would feature a fiery showdown between the pair as Max orders Stacey to hand herself in to the police.
Wood confirmed: "In the same way as the audience do, Max wants answers. He wants to make Stacey pay for what happened to Bradley as he blames her for his son's death. Ultimately, he wants to turn her over to the police to clear his son's name."
> Ten teasers about the Max/Stacey two-hander
> Click here to read our full interview with Jake Wood