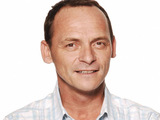 Perry Fenwick
has admitted that he is grateful for the 'challenging' nature of his latest
EastEnders
storyline.
In scenes which air next week, the actor's character Billy Mitchell revisits his past when he receives a visit from Julie Perkins, an old friend from the days he spent in a children's home as a youngster.
Viewers will soon see Julie - played by actress Cathy Murphy - turn Billy's life upside down as she forces him to face some shocking home truths. However, full details of the storyline are currently being kept under wraps.
Speaking to
Inside Soap
about the plot, Fenwick commented: "When I had my first meeting with our new producer, Bryan Kirkwood, he said it was about time Billy had a story that's not connected to everyone else.
"When you've been in the show a long time, you've got a big book of history, and they're reintroducing things even I'd forgotten about! But the points about Billy being in the home were there and it's great for me to bring up all this stuff again."
He added: "It's a great acting challenge for me, as it's given me the chance to let go and be a little bit nutty. It's not just chirpy Billy selling bananas on a stall! There are plenty of twists and turns in this tale."
Fenwick
celebrated
his 1,000th episode of
EastEnders
earlier this year.