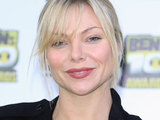 EastEnders
star
Samantha Womack
has admitted that filming her upcoming baby plot has been a "horrific" experience.
Dark scenes in the New Year's Eve edition of the BBC soap will see the tragic Mitchell sister discover that her newborn son James has died. She then shockingly swaps him with Kat and Alfie Moon's new baby Thomas.
"It's been the most horrific four weeks of my life," the actress told
Inside Soap
. "I couldn't stop crying when we were filming the scenes where Ronnie finds her dead baby. I couldn't switch off when I returned home each day."
The 38-year-old continued: "What Ronnie has been through is such a crushingly awful thing to even pretend might happen to you. I actually felt ill having to portray it. We used an expensive silicone doll, and it was so lifelike it upset a lot of people on set. We had to stop and take a break because it was too much."
However, Womack admitted that she fears how fans will react to more devastation for the "damaged" Ronnie.
"I love
EastEnders
and the fans enjoy it because it's hardcore and bleak at times," she said. "But I also worry because this is such a traumatic storyline. New Year can be a difficult time for some people, so I really hope this is taken in the spirit in which it's intended - which is about producing dramatic television.
"I've watched the episode where James dies and it really is very powerful, with strong performances from everyone. Producers are happy with it - I just hope it doesn't upset viewers."
She added: "Ronnie is the most damaged character I've ever played - she never gets a break, does she? I have no idea what direction she'll be going in after this storyline is over."
> Kirkwood: 'Baby plot will be believable'