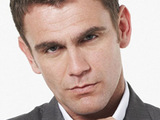 EastEnders
actor
Scott Maslen
has revealed that Samantha Womack may reprise her role of Ronnie Branning in the future.
Maslen, who stars as Jack Branning, insisted that the actress is leaving to spend more time with her children and not because of the controversial baby swap storyline.
On the red carpet at last night's National Television Awards, he told
PA
: "She's going to go away for a bit, she needs a bit of a break. It was nothing to do with the story. That's not what triggered her leaving. Sam's been thinking about it for some time.
"She's got two kids, she works very hard and as a woman she wants to spend some time with her kids, which is natural and to be admired. She's going to have a little breather and who knows? She may well be back."
The plot, which saw Ronnie lose her baby to cot death and then swap him with Kat Moon's newborn, has become the most complained-about storyline in
EastEnders
' history.
However, Maslen claimed that viewers need to recognise that the programme is not real life.
He added: "There's always a sector of society that believe what we do on TV is real. I love the public, I'm one of them, I'm from round here, but you've got to know when something is real and when it's not.
"I know issues affect people and they respond to those things but you've got to be a bit more real and not go up to people on the street and say, 'You shouldn't have done that'. She's had quite a lot of it.
"That's a little bit disheartening and scary for her. She doesn't like being the centre of attention for these sort of reasons. But she is big and strong and understands it."