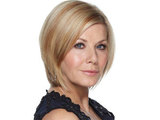 EastEnders
star
Glynis Barber
has revealed that viewers can expect "sad and emotional" scenes as her character Glenda Mitchell departs Walford in next week's episodes.
Glenda - who first appeared on Albert Square more than a year ago - makes her
exit
from the BBC soap after her daughters Ronnie (Samantha Womack) and Roxy (Rita Simons) both turn against her in a forthcoming storyline.
Roxy is the first to reject her mother after she becomes convinced that Glenda was the schemer behind the theft of her money - falling for the lies of her cousin Phil, who was the real culprit.
Meanwhile, Ronnie has her own reasons to want Glenda away from Walford when she begins to suspect that the feisty blonde knows the truth about her baby secret.
Discussing her exit script, Barber commented: "I felt sorry for Glenda because at the end of the day she's innocent. She didn't actually steal Roxy's money - it was Phil, so it was really sad and emotional for me to be filming. When Glenda leaves, she's completely hurt and humiliated so the emotion comes through in the scenes."
Explaining why Glenda leaves Walford, she continued: "Glenda's been rejected by her girls as well as Phil. No-one wants her or seems to care about her. She's devastated. She loves her girls and without them she's all alone in the world."
Barber added that she would not rule out a return for Glenda at some point in the future.
"The stage is all set for her to come back so you'll have to wait and see," she said. "I'd quite like to see her with a different status, either with a strong male lead or with a lot of money!"
Glenda's departure airs on Tuesday, March 8 at 7.30pm on BBC One.
> Click here to read a full Q&A with Glynis Barber