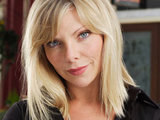 Troubled
EastEnders
character Ronnie Branning will hand herself over to the police after coming clean over her baby swap secret, a report has claimed.
On Sunday it
emerged
that Ronnie will finally come to her senses next month by confessing to her terrible mistake, leading to Kat Moon finally being reunited with son Tommy.
According to the
Daily Star
today, subsequent scenes will see Ronnie visit the local police station and explain what she has done. The storyline is then expected to focus on a police investigation into the matter.
However, Ronnie's ultimate fate remains unknown as it is not yet clear whether she will be charged or escape punishment.
Kat, meanwhile, is expected to face fresh troubles despite her joy at getting Tommy back. It is thought that she will struggle to bond with the baby after being away from him for so long.
A source told the newspaper: "It's a tough thing for Kat to get her head around. She's been through so much pain mourning the loss of Tommy and now she's got to get used to him being alive."
The Walford plot began on New Year's Eve when Ronnie's newborn son James lost his life to cot death. In her grief-stricken state, Ronnie secretly switched the child with Kat's baby - heaping heartbreak on the Moons.
Recent rumours surrounding the baby swap climax have yet to be confirmed by show bosses as
EastEnders
does not comment on future storylines. However, reports
suggest
that Ronnie makes her confession on the day of Tanya and Greg's forthcoming
wedding
.
> Click here to read our EastEnders spoilers