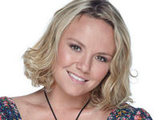 Charlie Brooks
has revealed that her encounters with
EastEnders
viewers have become more positive in recent years.
The actress, who plays Walford superbitch Janine Malloy, admitted that she now receives much more support on the street than she did when she first appeared as her villainous character.
Speaking on
BBC Breakfast
today, Brooks explained: "Now that I'm older, I don't know what it is - I don't know whether it's the way you carry yourself or a certain confidence that you might have - but people are always absolutely wonderful and lovely.
"But when I was younger, it was kind of a different story. There was much more abuse and maybe I was more vulnerable-looking and more of an easy target. But now, people are great!"
Discussing the experience of playing a villain, she commented: "I love it. I love the character. I revel in playing the bitch and I revel in understanding the bitch as well - what makes her behave that way - and trying to get under her layers a little bit more. I'm constantly sort of defending her and I'm sympathetic towards her as well."
The 29-year-old also discussed her future ambitions, confirming that she would like to do more stage work at some point.
She said: "Definitely at the top of my list would be theatre, I did some theatre in my time out [from
EastEnders
] and was just so challenged by it and learned so much. That would definitely be something that I'd look to do at some point in my career, amongst many other things!"
Janine's latest
EastEnders
storyline has seen her
reunited with her estranged grandmother Lydia Simmonds
, played by Margaret Tyzack.
> Charlie Brooks praises 'Enders gran plot