35
Soaps News
'EastEnders' boss defends Christian, Syed bedroom scene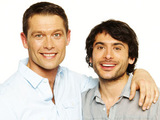 EastEnders
' executive producer Bryan Kirkwood has said that he stands by the decision to show gay couple Christian Clarke and Syed Masood in bed together in a recent episode of the soap.
The episode in question
sparked complaints from a handful of viewers
who felt that the pair's scene was "inappropriate".
Official figures released earlier this week showed that 125 people had contacted the corporation to complain about the matter. However, 77 messages were also sent from viewers who praised
EastEnders
for including the scene.
Responding to the complaints during an appearance on
This Morning
today, Kirkwood commented: "I think
EastEnders
was the first soap to broadcast a gay kiss about 24, 25 years ago so it's only taken them 25 years to get into the bedroom from the living room!
"I think that we showed a heterosexual kiss on Monday night between Max and Vanessa that had no complaints, so I think we're right to show a loving, tender relationship within the context of the timeslot."
He continued: "I think Christian and Syed are the most established gay, loving relationship on TV. It wasn't crude, it wasn't over-sexual. It was something that you see every day within a heterosexual relationship and I stand by the decision to do it. [Syed] had just accepted his marriage proposal, so it was a beautiful moment."
Kirkwood also promised that the popular couple will be at the forefront of
EastEnders
in the coming months as they begin to play a bigger role in the Masoods' current storyline with scheming doctor Yusef Khan.
"They've just got engaged, they're trying to start the search to adopt a child and we'll see Christian and Syed coming well and truly front and centre of the show over the coming months as they get back into the Yusef storyline," he said.
> Read more EastEnders spoilers and news
Get the Inside Soap magazine on your iPhone or iPad