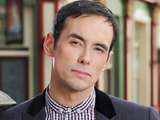 EastEnders
star
Steve John Shepherd
has confirmed that his character Michael Moon will want to get even with Ronnie Branning when she rejects him in a forthcoming storyline.
Fans of the BBC soap are about to see
Michael become increasingly obsessed with Ronnie
, believing that they share a bond as they both have turbulent family histories.
However, in an
EastEnders
episode airing next month, Michael tries to kiss Ronnie (Samantha Womack) and is left furious when she makes it clear that she's not interested.
"She says she's with Jack and that if he comes near her again, she will kill him," Shepherd told
Soaplife
. "It's not the reaction he was expecting and that feeling of rejection takes him back to his childhood. Michael's a person who wants to win in every situation and he's angry Ronnie has turned him down."
As previously reported, Michael is expected to start telling lies about Ronnie to Kat and Alfie Moon, whose baby she snatched on New Year's Eve. As part of the vengeful plan, he even tries to convince the pair that Ronnie wants to steal Tommy again.
"He's not making rational decisions," Shepherd continued. "He just wants revenge and isn't thinking of the consequences."
The actor added that Michael may come to regret his behaviour further down the line.
"Remorse is something that comes later," he said. "Michael will be working out what he feels over the coming weeks. It goes on for a while."
EastEnders
continues tomorrow night at 7.30pm on BBC One.
> Read more EastEnders spoilers and news
Watch highlights of Michael's time on
EastEnders
so far in the video below: