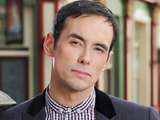 Steve John Shepherd
has predicted that
EastEnders
fans will be shocked when they get a glimpse of Eddie Moon's darker side later this month.
Next week's episodes of the BBC soap see Shepherd's character Michael Moon face the wrath of his father after all of the stock from Eddie's antiques emporium is set on fire in mysterious circumstances.
Although fans will see that mischievous newcomer Lola Pearce is responsible for the blaze, Eddie is convinced that Michael is to blame and goes on the warpath.
"Eddie pins Michael up against the wall at the B&B and lets rip," Shepherd told
Soaplife
. "It's really powerful and was quite frightening to film.
"David Essex, who plays Eddie, pulled out all the stops. His character's so refined and relaxed that it's shocking to see that other side of him."
After Eddie continues his vengeful behaviour, Michael sets to work on his own payback - deciding that his dad's growing connection to Carol Jackson (Lindsey Coulson) could work to his advantage.
Shepherd added: "He's torn. Part of him would like to see his dad happy - but another part is using his involvement with Carol as a vehicle for something else. He's going to go into some very dark places."
Next week's episodes also see Matt Lapinskas make his debut as Anthony Moon.
> EastEnders arson attack 'devastates Eddie Moon'
> EastEnders newcomer Anthony 'was corrupted by Michael'
> Read more EastEnders spoilers and news
Watch some of Michael Moon's
EastEnders
best bits in the video below: