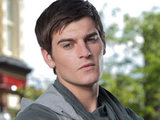 EastEnders
newcomer
Matt Lapinskas
has confirmed that his character Anthony Moon will be drawn into the feud between his dad Eddie and half-brother Michael when he joins Albert Square.
Anthony makes his first appearance on screen in Monday's episode of the BBC soap, completing
the batch of new Moons who have descended on Walford
.
Earlier this year, viewers discovered that Michael (Steve John Shepherd) has resented Eddie (David Essex) for years - blaming him for the death of his mother, who killed herself when he was a youngster.
Speaking to
All About Soap
about whether Anthony knows the truth about the dark incident, Lapinskas explained: "He doesn't - but he finds out as soon as he arrives in the Square. Jack and Michael have had a big fight - Jack beats Michael badly. So the first time Anthony sees Michael, he's got a big bruise on his face.
"Anthony's very shocked and wants to know what's going on, so he sits down with Michael and finds out all about how [she] really died. Eddie told the boys she'd died in a car crash, so this is all news to Anthony."
Asked how Anthony deals with the situation, the actor replied: "He's the peacemaker in the family, so he goes to see Eddie and forces him to talk to Michael. From there you see them come together - but it's not as simple as it looks and you find out later on what really happened."
Lapinskas also predicted that the new Moon arrivals will take no nonsense from the other residents of Walford, warning that there could be fireworks ahead.
"The Moons are so tight that nothing can really affect them, but if someone tries to mess them up or tries to divide them, then they'll sort you out," he said. "They're a friendly family, but you don't cross the Moons!"
Read more about the Moons and their current EastEnders storylines:-> EastEnders arson attack 'devastates Eddie Moon'> EastEnders newcomer Anthony 'was corrupted by Michael'> EastEnders star promises "shocking" Eddie scene> Matt Lapinskas: 'I was nervous over EastEnders debut'> Digital Spy's full EastEnders spoilers
Watch
EastEnders
' Anthony and Tyler teaser video below: