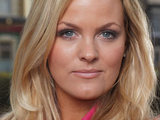 Jo Joyner
has said that
EastEnders
fans are split over Tanya Jessop's affair with her ex-husband Max Branning.
The Albert Square plot saw the mother-of-three
begin a secret relationship with her former partner
after marrying builder Greg (Stefan Booth).
"It's like Marmite," the actress told
TV Times
magazine. "Some people hate the idea, others love it.
"A lot of people think Max is really smarmy. They're the ones who don't fancy him. The ones who fancy him feel like Tanya and forgive him because he's just naughty and they love it."
An upcoming storyline will see Tanya's world turned upside down when
she is diagnosed with cervical cancer
. Joyner admitted that the illness will be the "start of a really difficult time for her".
"Tanya's dad died of cancer and she nursed him through it. She has seen it first-hand and therefore has a deep-seated fear of it. It is the start of a really difficult time for her," she said. "She is going to want to keep up appearances.
"You don't tend to lose your hair with cervical cancer treatment, but I will grab any chance to show her dropping her guard. I'll be looking duller towards the end. It's my job to make this as honest and truthful as I can."
> 'EastEnders' cancer plot is a responsibility, says Jo Joyner
> 'EastEnders' Zöe Lucker: 'Vanessa would blame Tanya for affair'