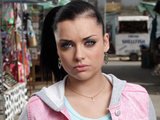 Shona McGarty has admitted that she was in "hysterics" when
EastEnders
co-star Neil McDermott filmed his final scenes.
The actor
announced his departure from the BBC soap in June
. McDermott's exit as Ryan Malloy transpires as Whitney comes face-to-face with pimp Rob Grayson (Jody Latham) in Southend.
"Fatboy calls Ryan, who then turns up in Southend," McGarty told
Digital Spy
. "Whitney is so happy that Ryan is there and she thinks that everything will be okay now. But all I can say is that everything goes horribly wrong…"
Reports have
suggested the outcome of a dramatic showdown between Ryan and Rob
, filmed on location in Southend, Essex earlier in the summer.
"In Ryan's last scene, Whitney is absolutely devastated and she cannot stop crying," the actress said. "But I felt the same way and when they called 'cut', I couldn't stop crying! I was in hysterics - I was so upset."
Despite the drama, McGarty said that the cast had "absolutely loved" filming in the seaside resort.
"But after a really long and hard day's filming - where we'd be shouting, screaming and trying to find that dark place inside of our characters - we'd all sit down for a nice meal in the evening and chill out," she said.
"We'd run lines together and we all really bonded, actually. We do bond in the studio, but at the same time we're all rushing around and sometimes just passing each other in the hallway. But in Southend, it was really, really nice - we all got on so well. Everyone sat down together - make-up, lighting, camera - and we all really got to know each other."
> Read the full interview with 'EastEnders' star Shona McGarty
> 'EastEnders': Shona McGarty on Whitney's future and more