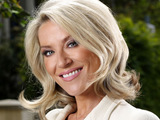 EastEnders
star
Zöe Lucker
has revealed that she loved filming her character Vanessa Gold's recent meltdown scene.
Earlier this month,
Vanessa completely lost control by smashing everything in sight at Max's house
after discovering that he had been cheating on her with ex-wife Tanya.
Reflecting on the dramatic moment, Lucker told
The One Show
: "It was really good fun, actually, doing that! It was one of those things where as a person, you think, 'It'd be quite nice at times to be able to just completely trash a room!'
"The director of that episode, a guy called Karl Neilson, is absolutely brilliant and he basically just set the whole thing up for one take.
"So you've got all the cameras in the right positions, he made sure that everybody was sure nothing was going to go wrong and then he said, 'Right, in your own time, just go for it!'"
Lucker confirmed that she has now filmed
Vanessa's exit scenes
but would be interested in a future comeback.
"The door has been left open so that's all good, because I did absolutely love my time there," she explained. "I finished two weeks ago and was really sad - sad to say goodbye to everybody and sad to say bye to that character.
"I've had such a lovely run over the past couple of months. I sort of spent a year not doing that much, [though] it was great to work with Jake who plays Max. But as I say, these past few months I've been getting some really, really good storylines and getting to spread my wings and work with lots of different actors, who I think are brilliant."
Lucker joined the cast of EastEnders
in March 2010.
> Read more EastEnders news and spoilers
Re-live Vanessa's 'bubbly in the fridge' meltdown in the video below: