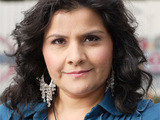 EastEnders
star
Nina Wadia
has predicted that her character Zainab Masood will grow closer to son Syed in the coming weeks.
Zainab disowned Syed (Marc Elliott) after he embarked on a relationship with Christian Clarke (John Partridge) in summer 2010, and the pair have only recently begun getting back on better terms.
The situation in the Masood family will take new twists next month when Syed's estranged wife Amira (Preeya Kalidas) returns to Albert Square with their baby daughter.
Wadia told the
Daily Star
of the Masoods' future: "I'm hoping things will hot up with Yusef and Zainab. I'm excited to see what will happen with that love triangle.
"And I can't wait for Syed's baby to come. I think it will help Zainab and Syed get closer as she'll want her grandchild and it may make her feel like her son is a proper man."
Zainab and Yusef's storyline takes a darker turn later this week
when the scheming GP crushes up pills into her food
, causing her to lose consciousness.
> EastEnders character faces 'suicide attempt' mystery
> EastEnders' Yusef stoops to dangerous new depths: Spoiler Pictures
> EastEnders' Preeya Kalidas reveals Amira return secrets
> EastEnders Christian, Syed fans set up Stonewall fundraiser
> Read more EastEnders spoilers and news
Watch Zainab's
EastEnders
character trail below: