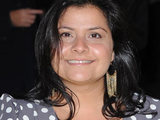 EastEnders
star
Nina Wadia
has admitted that she was surprised when she learned that Masood Ahmed would divorce her character Zainab Masood in an upcoming storyline.
Masood, played by Nitin Ganatra, makes the heart-wrenching decision in next Monday's episode after hearing that Zainab has taken an overdose of pills. Both are unaware that scheming doctor Yusef Khan (Ace Bhatti) secretly crushed the tablets into her food.
The scenes in question see Masood pay a visit to the family home and leave Zainab stunned by saying the word "talaq" - meaning "I divorce you" - three times in accordance with Islamic culture. Masood does so as he believes that Zainab needs a fresh start without him.
Wadia told
Inside Soap
of the plotline: "When Nitin and I found out Zainab and Masood were going to divorce, we were like, 'Noooo'. When we read the scripts and saw that twist right at the end, we went, 'Whoa!'"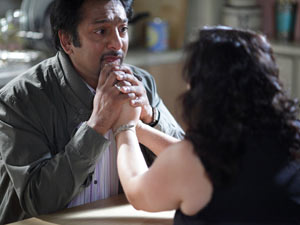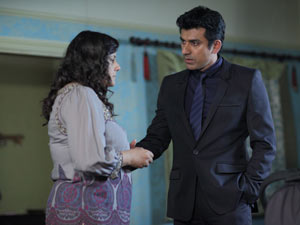 Pictured left: Masood divorces Zainab. Pictured right: Zainab spends time with Yusef.
The actress also admitted that she does not foresee an easy way back for the former couple.
"I can't see them getting back together yet," she explained. "They're going in opposite directions. But I don't doubt that they still love each other."
EastEnders
airs Zainab and Yusef's shock pills twist tomorrow at 7.30pm on BBC One.
> EastEnders' Yusef stoops to dangerous new depths - Spoiler Pictures
> EastEnders' Zainab will get closer to Syed, predicts Nina Wadia
> Read more EastEnders spoilers and news
Watch Zainab Masood's
EastEnders
character trail below: