EastEnders
' Moon brothers face a desperate situation as Derek piles on the pressure in tonight's episode of the soap.
Anthony (Matt Lapinskas) and Tyler (Tony Discipline) brace themselves for a hellish day as they don't have the full £4,000 to pay off their debt to Derek, who arrives at the antiques emporium bright and early to collect what he's owed.
When Derek (
Jamie Foreman
) hears that the pair can't pay him, he demands that they work off the debt by doing a dangerous job for him instead - collecting copper cable from a train line.
The brothers reluctantly agree, while Patrick (Rudolph Walker) offers to be the driver for the evening as he feels guilty for his part in their problems. But when Anthony decides to get Michael (Steve John Shepherd) involved, things get very messy…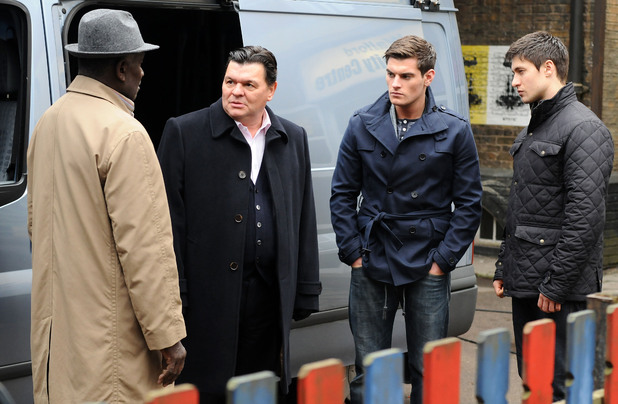 EastEnders
airs tonight at 7.30pm on BBC One.
> EastEnders' Anthony, Tyler will need Michael's help - Spoilers
> EastEnders' Michael will clash with Derek, says Steve John Shepherd
> Read our full spoiler for tonight's episode of EastEnders
> Read more EastEnders spoilers and news