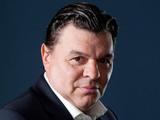 EastEnders
star
Jamie Foreman
has said that he is delighted by the public's reaction to his villainous character Derek Branning.
The actor, who has been appearing in the part since November, revealed that he is thrilled when
EastEnders
fans approach him on the street to comment on Derek's antics.
Foreman told
The One Show
: "I get some wonderful reactions. I get told every day that I'm nasty and horrible and I just want to walk around saying, 'Thank you, thank you'!
"But they say it with a smile on their faces, and I think they're enjoying the character, so I'm doing my job."
Asked whether playing an
EastEnders
villain comes with pressure, he replied: "I didn't feel any pressure at all, because it was just such an interesting character. And I had a lot of input into it as well, before I went into the show. Because it's such an immediate show in people's living rooms, I thought it was really important to hit the floor running with it.
"And I have some great actors around me - the family that I've gone into, I'm wall-to-wall with good actors. And Pam St Clement gave me the best entrance I could have asked for, with her reaction to me. I was very lucky."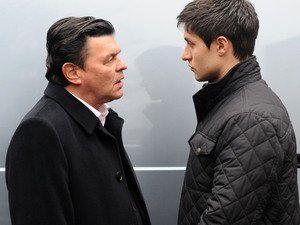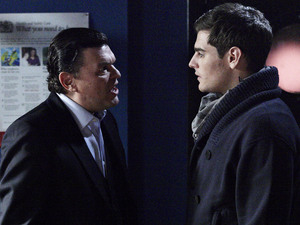 This week's
EastEnders
episodes have seen Derek threatening Anthony and Tyler Moon (Matt Lapinskas and Tony Discipline) as they have been unable to pay back a £4,000 debt they owe him.
However, discussing Derek's bad behaviour, Foreman continued: "I think he's a very misunderstood man! He's my hero! I always approach these characters as if he's the hero of his own existence. Then you play them truthfully - otherwise you become a cardboard cut-out of a bad guy, which I always try to avoid. He thinks he's the good guy."
He added: "Can I just say, whatever happens to those Moon boys in the next couple of nights, I love them dearly. They're great friends of mine. And for all the young girls out there, I'm only acting!"
EastEnders
continues tonight at 7.30pm on BBC One.
> EastEnders' Michael will clash with Derek, says Steve John Shepherd
> EastEnders' Jo Joyner talks cancer storyline, Tanya future
> Read more EastEnders spoilers and news
Rewatch the moment that Derek tormented Pat on her deathbed in the video below: