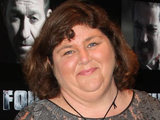 Former
EastEnders
star
Cheryl Fergison
has admitted that playing Heather Trott's post-death scenes was a tricky task.
Heather was killed off on Monday night (March 19)
as twisted Ben Mitchell (Joshua Pascoe) attacked her, but Fergison remained in place on set for all of the aftermath scenes at the mum-of-one's flat.
Fergison today (March 21) told
Radio 1
: "It was a dream way to go. When you're told you'll be leaving the show it's upsetting, but it's a dream storyline. I watched it last night.
"Obviously when I played a corpse, I didn't see any of it - what was going on around me. It's hard, because you don't know when to breathe as you don't know when the cameras are on you! I was lying there for hours so it is hard, but I watched it last night and I'm so pleased with the end results. The aftermath is cracking, so stay tuned in."
Fergison added that she was touched by the support she received from colleagues past and present after filming Heather's final scenes.
"I did my final scene and suddenly the studio filled with people," she explained. "It was incredible, the number of people who came to say goodbye. Linda [Henry] had arranged a surprise party - Barbara Windsor and Pam St Clement turned up. It was amazing. For the first time, I walked into a room and didn't speak for about 15 minutes. To see all these faces - it was a room full of love."
EastEnders
continues tonight (March 21) at 7.30pm on BBC One
as Shirley discovers that Heather is dead
.
> EastEnders' Cheryl Fergison on soap exit: 'There were lots of tears'
> EastEnders' Andrew Cotton to stay on soap, confirms Ricky Grover
> Read more EastEnders news and spoilers
Watch Heather's
EastEnders
character trail below: