33
Soaps News
'EastEnders' Jamie Foreman: 'I want to keep making movies'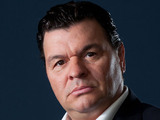 Jamie Foreman
has revealed that he hopes to keep making films while also appearing on TV.
The
Layer Cake
actor, who plays Derek Branning in
EastEnders
, said that his soap role may increase his fanbase.
"I'm contracted to
EastEnders
for a year, and I'll stick to doing the best I can with the time I've got there," he told
MSN UK
.
"I've got a couple of movies coming out, including a psychological thriller called
Hard Shoulder
and a movie called
St George's Day
, in which I play a police officer, and I'm very excited about seeing that.
"I don't want to lose sight of my film career - I've built a new audience with
EastEnders
, and I'll bring that audience to the films that I'm in, so I'm very happy about that."
Of his own following, he added: "I've made over 40 films, and if 10 million people went to see one of them, it would be a box-office smash.
EastEnders
gets that four times a week.
"I've always had a fanbase, I've always had people stop me in the street and we'd have a chat, but this is completely nuts. It's bizarre but lovely.
"The wonderful thing is that when people see me they always smile first and then say, 'Oh, you're that really nasty man', which means they are enjoying the character. They always go, 'You're wicked, you're evil' and I say, 'Thank you very much'."
Foreman recently revealed that
EastEnders fans will start seeing a nicer side to his character
.
> EastEnders lines up Alfie, Derek friendship
Get the Inside Soap magazine on your iPhone or iPad