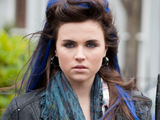 Ex-
EastEnders
actress
Emer Kenny
has admitted that she misses being a cast member on the show.
Departing executive producer Bryan Kirkwood
wrote out
her character Zsa-Zsa Carter, the niece of Shirley who was originally seen on internet spinoff
E20
.
Speaking to
What's on TV
, Kenny declared: "It was wicked. I do miss her character, I really do. She was really fun, but I played her for almost a year and that was enough for me.
"I knew her inside out so it felt really natural. She got to say some cool lines and put her middle finger up at the world quite a lot, which is unlike me.
"I'm not a rebel in any way so it was nice to put the blue extensions in and just feel different."
Kenny, 22, recently penned her first full-length episode of the BBC soap after becoming a scriptwriter.
However, the star refused to rule out a return to the Albert Square serial, adding: "I'm going to say never say never because it is really fun working on that show.
"But I don't have any plans to at the moment. I think we're still waiting to hear if there's going to be another series of
E20
."
> Read Digital Spy's recent interview with Emer Kenny
> Emer Kenny: 'Lauren story more binge-drinking, less alcoholism'