EastEnders
star
Steve John Shepherd
has admitted that his character Michael Moon is playing a "dangerous" game as he steps up his ongoing scam in upcoming episodes.
As recently reported,
Jean Slater will soon be left distraught
when Michael refuses to hand her 'investment' money back, denying all knowledge of their financial agreement.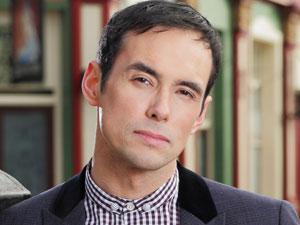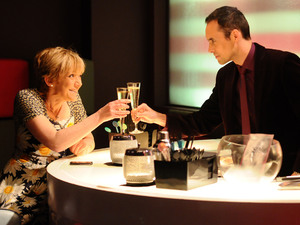 Michael then heads away on a weekend holiday to Paris with fiancée Janine Butcher (Charlie Brooks). When he returns to Albert Square, he realises that he must cover his tracks by discrediting Jean's (Gillian Wright) story.
Shepherd told
All About Soap
: "The trip gives Michael some time to reconsider what he's done. He's started a war by denying knowledge of Jean's money, so now it's really a case of who can outfox who.
"Michael knows he can't give Jean any of her cash back, because it's gone. He's spent it all on taking Janine out for posh suppers. Michael might be good at getting money, but he's no good at keeping it."
He added: "With Jean it's her money and that's that, but with the money from the Queen Vic, it's also implicating Kat and Alfie of course. Michael has shifted into dangerous territory, and he knows he's on dodgy ground. He'll have to pull off something pretty major to get himself out of this mess."
EastEnders
' cast and crew recently filmed Michael and Janine's wedding day,
which is expected to feature an unexpected surprise for the pair
.
Discussing whether the ceremony will go ahead, Shepherd said: "The ground the couple have built their relationship on is very shaky - it must be doomed to failure. But you never quite know where you are with Michael. The wedding might just happen, but then again it might not!"