EastEnders
businesswoman Janine Butcher is rocked in tonight's (June 22) big wedding episode as she hears a shock confession and ultimatum from fiancé Michael Moon.
Michael (Steve John Shepherd) finally shows a flicker of remorse this evening as Kat informs him that Jean is likely to be sectioned following her recent behaviour. Unable to keep up the pretence for any longer, Michael tells Kat that Jean has been right about the stolen money all along.
Later, Michael heads to the ceremony as planned and everything seems to be running smoothly until he suddenly calls a halt to the proceedings, asking Janine (
Charlie Brooks
) to join him outside the marquee.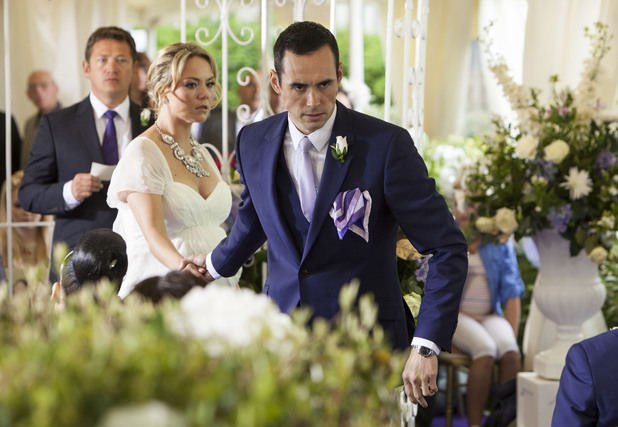 A confused Janine follows him out and is soon left stunned as Michael privately tells her that he's been lying about the Jean situation for weeks.
Attempting to explain his con, Michael adds that it all stems back to the pre-nuptial agreement - suggesting that it is tainting their relationship as it proves Janine doesn't trust him.
Janine is horrified as Michael declares that he's having second thoughts about the wedding, telling her to rip up the pre-nup or he won't marry her. What will Janine decide?
EastEnders
airs an
hour-long episode
tonight from
7.30pm
on BBC One.
> Digital Spy's full spoiler and pictures for tonight's 'EastEnders' episode
> Read more 'EastEnders' spoilers and news