Last week, I asked '
Who's Tony most suited to in Corrie?
' and you voted in your thousands.
A surprising 45.1% of those votes cast plumped for... wait for it... Maria! Yep, nearly half of those polled believe that the widow-come-new-mum is the perfect match for Mr Gordon (
Gray O'Brien
).
So how many picked Tony's wife Carla (Alison King) as his Miss Right? Well 37.6% chose his other half, while 13.2% think he's suited to 'Someone Else'. Suggestions below please...
Only 4.1% think Natasha's (Rachel Leskovac) worthy of the Scottish entrepreneur.
I've been quite surprised by Tony and Maria's relationship over the last few weeks. While it's been creepy/cringey/unsettling to watch Weatherfield's knicker boss worm his way into the life of an unassuming Maria, it just 'works' on screen. It shouldn't. But it does.
There are plenty of twists to come, though. Just when you think you know what's coming, you don't. And when you think it couldn't get any worse, it does...
Earlier this week, I managed to catch up with mum-to-be in real life Samia Smith to chat about her ongoing storyline. Check back on Tuesday for the full interview.
In the meantime, join the campaign trail to bring back Chrissie Watts to
EastEnders
...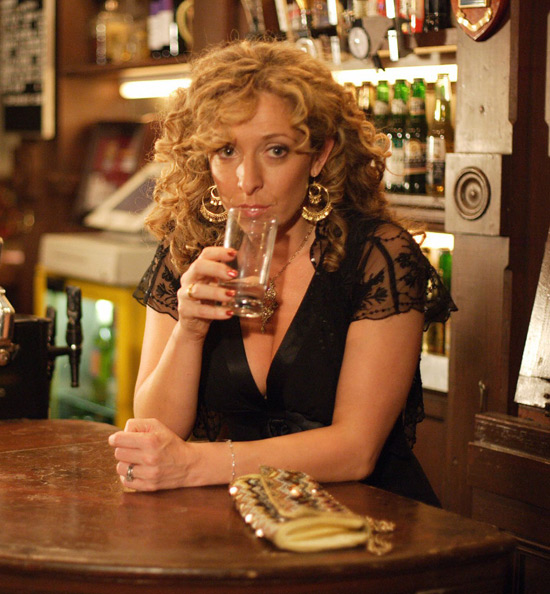 Remember her? Who could forget.
Last week, I was delighted to chat with the gorgeous Tracy-Ann Oberman - who played
EastEnders
' landlady Chrissie Watts for a year-and-a-half - about her time with the show. If you've not managed to read the interview yet, then
click here
to see what she had to say.
During the interview, Tracy
revealed
that she'd love to return to the Walford soap to finish off her character's storyline. If you remember, Chrissie was left languishing in prison after confessing to her husband Den's (Leslie Grantham) murder. She's never been seen since.
Surely I'm not the only one thinking that there's still some mileage in Chrissie's story? Where is she now? What happened at trial? Has she spoken to Sam Mitchell since?
And speaking of Sam... She's returning to the Square in September as the original actress Danniella Westbrook
takes the reins
from Kim Medcalf. A prime time to draft Chrissie back in and finish off what the storyliners started just over five years ago, surely?
So what do you think? Should
EastEnders
bosses bring back Chrissie? Cast your vote using the panel below.
If you'd like to follow the campaign to #BringBackChrissie, a twitter page (
@ChrissieWatts
) has been set up. Or if you'd rather tell the lovely Tracy-Ann Oberman how much you love her/her work/Chrissie Watts, then you can add her on Twitter, too (
@TracyAnnO
)!
While I'm at it, you can also follow myself (
@krisgreen65
), Soap Scoop (
@soapscoop
) and
DS
's International Soaps Reporter (
@darren_rowe
) on there, too...
Let me know your views on the above using the usual form below!