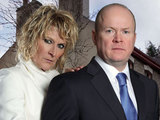 Phil and Shirley take centre stage in
EastEnders
in the coming days as their relationship reaches a crossroads.
After Glenda blurts out the truth about her affair with Phil in front of surprised punters at The Vic this Thursday, Shirley is left to wonder whether she should believe the schemer's allegations or her partner's protestations of innocence.
Phil tries to get Shirley back on side next Monday by presenting her with an expensive-looking engagement ring, but she remains suspicious and later tells Heather that his gesture hints at a guilty conscience.
Eventually, Shirley is left in no doubt of Phil's infidelity when she overhears him arguing with Glenda at the R&R, speaking openly about his betrayal. When she walks in on the guilty pair, Shirley is told by Phil that it's not what she suspects - but she refuses to listen to any more lies.
Instead, Shirley focuses on getting even with Glenda - furiously dragging her into the chip shop as the mischievous blonde prepares to leave Albert Square for good.
Who will come out on top in the showdown between Shirley and Glenda? And will Shirley still marry Phil?
Here,
Soap Scoop
previews the drama in store with two new Phil and Shirley promo shots and a glimpse of next week's episodes. Click through the gallery below to see each picture: