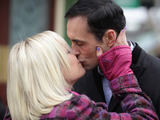 EastEnders
exec Bryan Kirkwood is among the soap producers who answer reader questions in this week's edition of
Inside Soap
magazine, talking about
Max and Tanya's future
,
what's next for Janine
and more.
Another interesting nugget of information from the soap's boss seems to hint that things between Roxy Mitchell and Michael Moon could get darker as they embark on a proper relationship in the months ahead.
Kirkwood told the magazine: "Michael bears a startling resemblance to Roxy's late dad Archie in the way he approaches life and treats people.
"Roxy's a little girl lost and Michael could be the worst possible man for her. But how long will it take her to realise that?"
Could Roxy be heading for trouble?
What do you think of the Roxy and Michael pairing? And could Michael be the next Archie? Let me know your thoughts using the form below!