EastEnders
flirt Kim Fox loses her temper next month as she continues to fight her feelings for newcomer Ray Dixon.
When Ray (
Chucky Venn
) asks Kim out in an upcoming episode, she decides to play hard to get and claims that she already has plans. Kim then quickly finds a date online and brings him along to The Vic to make Ray jealous.
Later, Kim (Tameka Empson) confronts Ray for spying on her date and tells the chef that he's not quite the catch he thinks he is. When Ray responds by making a comment about Kim being 'easy', she isn't pleased and gives him a slap.
When Kim's date also makes an inappropriate remark, she slaps him too before storming out of the pub. When will things look up for Kim's love life?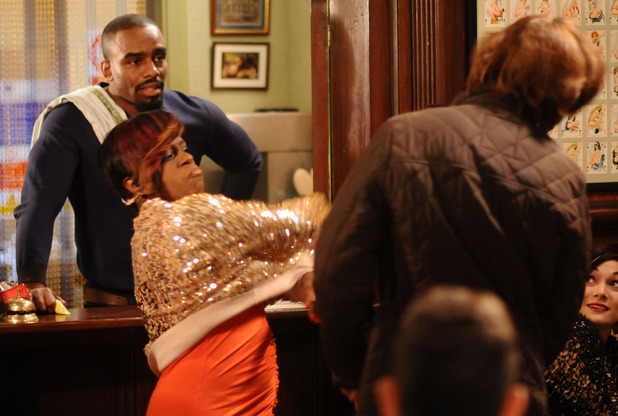 EastEnders
airs these scenes on Tuesday, February 7 at 7.30pm on BBC One.
> EastEnders Kim's dance class - Spoiler Picture
> Read more EastEnders spoilers and news
Over on
Coronation Street
, Nick Tilsley struggles to get on good terms with Stella Price as he continues to date her daughter Eva.
Nick (Ben Price) is enjoying his relationship with Eva (Catherine Tyldesley), and as her birthday approaches, he decides that it's the perfect opportunity to make his good intentions clear to Stella.
The businessman gets an invite to Eva's birthday tea, and his desire for happy families leads to Gail (Helen Worth) and Audrey (Sue Nicholls) also receiving invitations - which makes him feel more than a little nervous.
When the gathering does take place, things don't go well and Stella (Michelle Collins) ends up having a go at Nick while Gail and Audrey watch on. Will Nick ever get Stella to warm to him?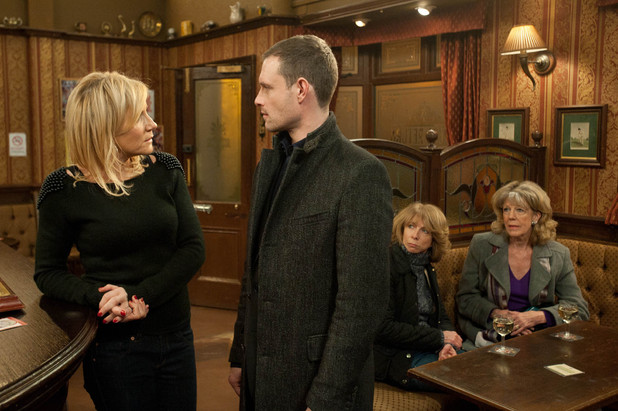 Coronation Street
airs these scenes on Thursday, February 9 at 8.30pm on ITV1.
> Michelle Collins to get new Coronation Street contract
> Coronation Street affair plot revealed
> Read more Coronation Street spoilers and news
Coming up in
Emmerdale
, troubles in Adam Barton and Aaron Livesy's friendship go from bad to worse as they end up in a brawl at The Woolpack.
Tension rises between the pair in the coming days as the attraction between John (James Thornton) and Chas (Lucy Pargeter) grows - leaving Adam gutted as he can see that Moira is heartbroken.
Adam (Adam Thomas) is later floored when he sees Chas getting into John's car and kissing him. However, when Adam confronts Aaron (Danny Miller) over his mum's behaviour, the mechanic insists that it's none of his business and refuses to have a word with her.
The situation soon spirals out of control as resentment escalates between Adam and Aaron - and they erupt into a brawl as Marlon and Moira try to separate them.
When Chas and John arrive back to the row, John realises that he needs to sort things out once and for all - by divorcing Moira!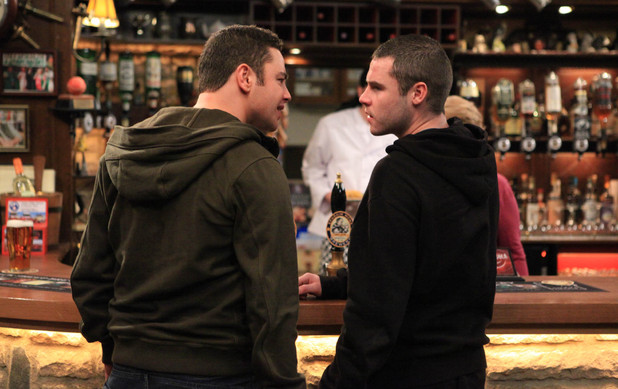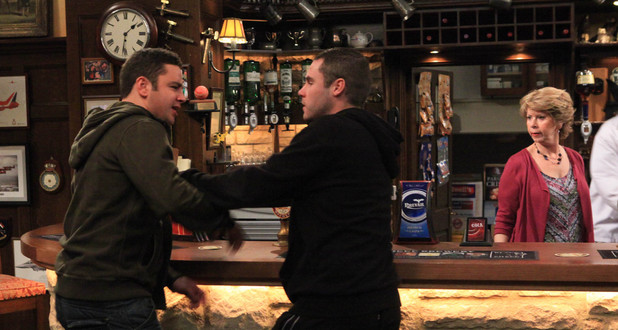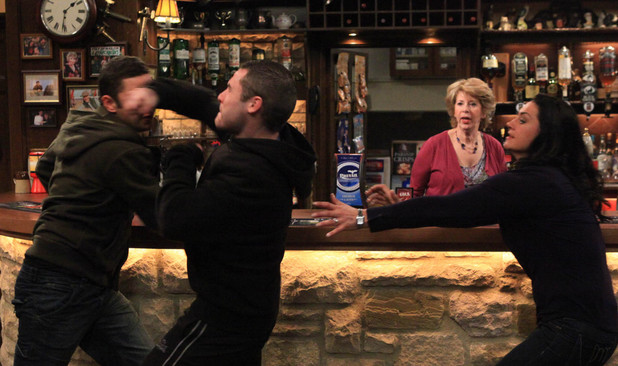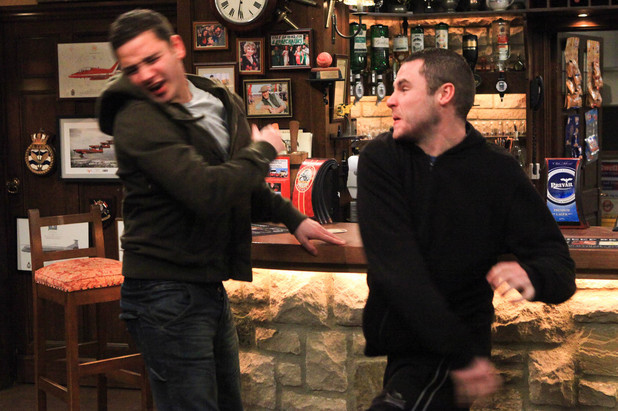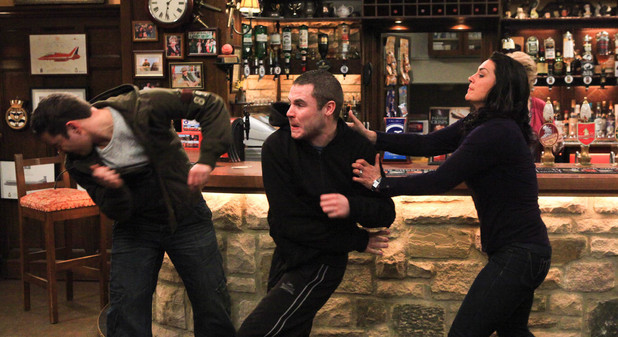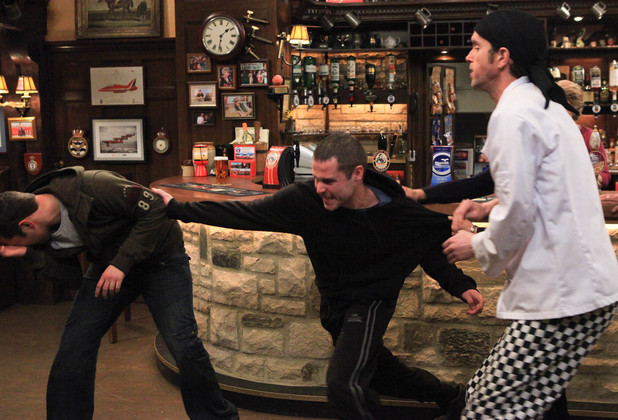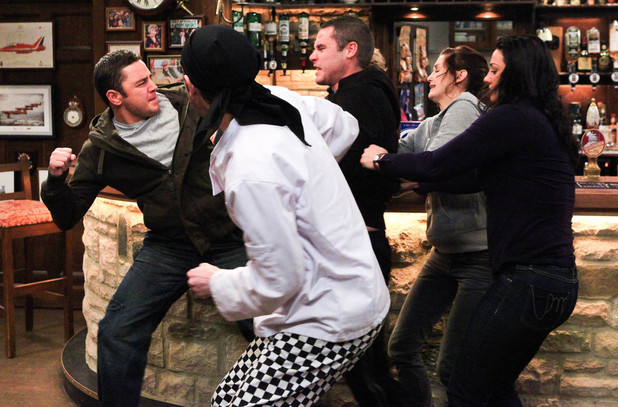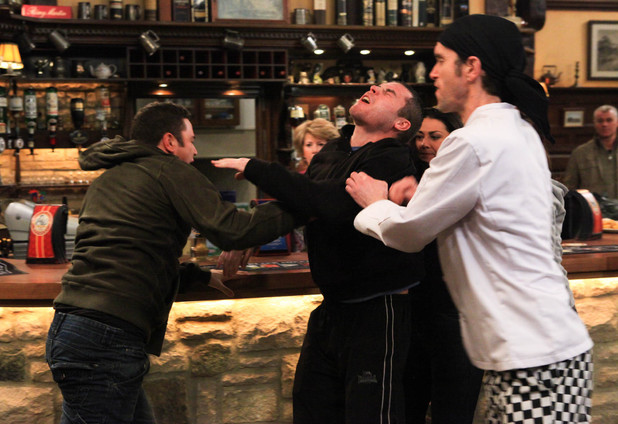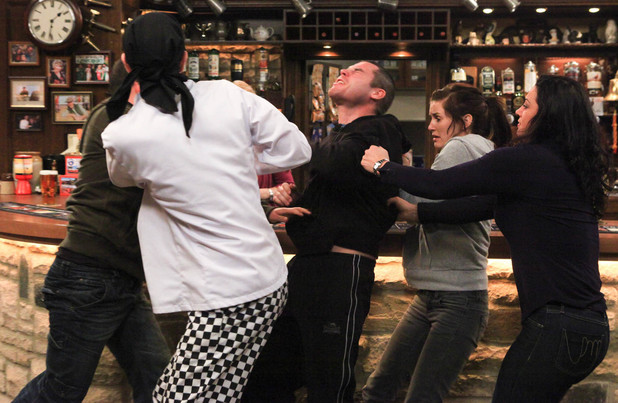 Emmerdale
airs these scenes on Tuesday, February 7 at 7pm on ITV1.
> Emmerdale Lucy Pargeter promises Chas Dingle romance plots
> Emmerdale star James Thornton quits soap
> Emmerdale Adam has big things ahead, says Adam Thomas
> Emmerdale Sophie Powles quits Holly Barton role
> Emmerdale Aaron exit keeps changing, says Danny Miller
> Read more Emmerdale spoilers and news
Meanwhile,
Hollyoaks
' Cindy Longford will soon make a move on Darren Osborne as she continues to help him with his secret wedding mission.
Cindy (Stephanie Waring) is still harbouring feelings for Darren (Ashley Taylor Dawson) and she's spurred on further when Nancy's mother Margaret returns to the village and starts plotting against her daughter's relationship.
After scheming Margaret encourages Cindy to go for it with Darren, the bankrupt businesswoman seizes her opportunity while helping him to pick a wedding dress for Nancy (Jessica Fox).
Darren has shown himself to be devoted to Nancy in recent months, but how will he react when faced with the temptation to stray?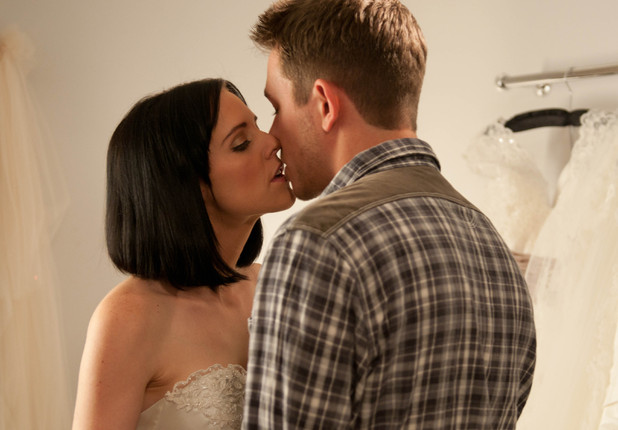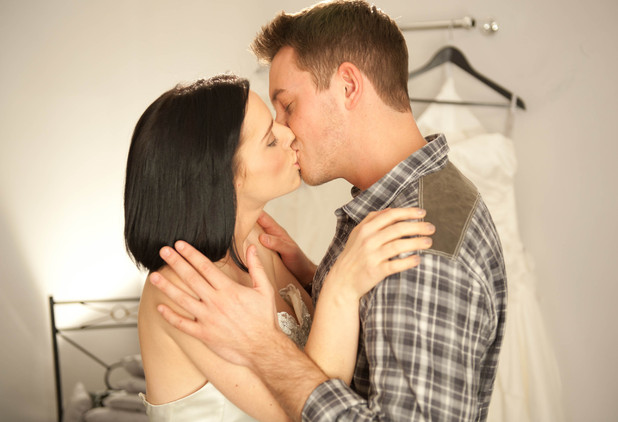 Hollyoaks
airs these scenes on Thursday, February 9 at 6.30pm on Channel 4.
> Hollyoaks 2012 spoilers: Nancy, Darren, Mercedes
> Hollyoaks star Ashley Taylor Dawson teases Darren wedding plot
> Hollyoaks star Jessica Fox excited over new Nancy plot
> Hollyoaks return for Nancy's mum
> Hollyoaks' Cindy wants Darren back, says Stephanie Waring
> Read more Hollyoaks spoilers and news
Over on
Doctors
, Zara Carmichael is at the centre of an experimental episode as she and three patients all witness the same extraordinary sight at a bus stop.
Zara (Elisabeth Dermot-Walsh) and the others have witnessed a white light phenomenon, yet all of them have different explanations for what they saw.
Particularly agitated over what she has seen, Zara desperately searches for the foetal heart monitor at The Mill - suddenly wanting to make sure her baby is okay.
Fortunately, her unborn child's heartbeat remains strong and healthy - but Zara still can't help but feel unsettled over the white light. Realising she may never have all the answers, Zara starts to wonder how she'll cope with motherhood…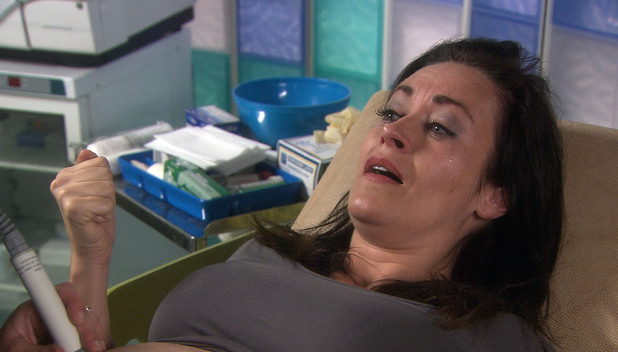 Doctors
airs these scenes on Wednesday, February 8 at 1.45pm on BBC One.
> Read more Doctors spoilers and news
Coronation Street
was the runaway winner of our storyline poll last week as
63.4%
of you chose the revelation of Carla and Peter's affair as the best plot.
Hollyoaks
came second with
18.8%
for Ally's arrival in the village, while
EastEnders
was third with
9.5%
for Andrew showing off his dance moves.
Emmerdale
took fourth with
6.7%
for Cameron's warning to Andy, while
Doctors
was fifth with
1.6%
for the Hollins clan inheriting a new house.
Don't forget to vote in the poll below and let us know which storyline looks best this week!