EastEnders
' Andrew Cotton finds himself banned from Heather Trott's funeral later this month as he remains under suspicion over his late fiancée's murder.
Shirley (
Linda Henry
) issues the ban in an upcoming episode as she's still convinced that Andrew killed Heather. When she spots Andrew having a heart-to-heart with Dot over his loss, she warns them both that they're not welcome at the upcoming service.
As the day of Heather's funeral dawns, Andrew (Ricky Grover) and Dot (June Brown) ignore Shirley's demands and get ready for the emotional send-off as planned.
However, when the funeral cars arrive, Shirley becomes enraged to see Andrew, Dot and Cora about to make their way to the service.
Declaring once again that they should stay away, Shirley warns Andrew that she will kill him if she sees him near the church, as Phil and Billy try to hold her back. Will Andrew take notice of Shirley's threats?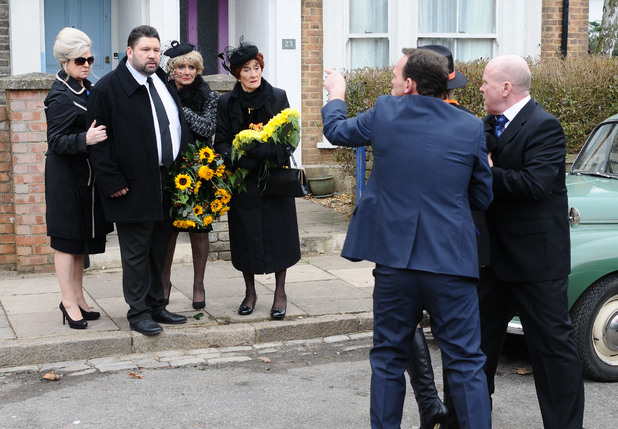 EastEnders
airs these scenes on Thursday, April 12 at 7.30pm on BBC One.
> EastEnders' Shirley to discover new Heather murder clue
> Read more EastEnders spoilers and news
Over on
Coronation Street
, Sunita and Karl edge closer to an affair as they continue to seek comfort in each other.
Karl (John Michie) finds himself kicked out of The Rovers later this month as a furious Stella discovers that his gambling addiction has left them in a financial mess. He's then grateful when Sunita (Shobna Gulati) offers him a place to stay for the night, as Dev and the kids are away on holiday.
The next morning, Karl hopes that he can get his relationship back on track, but Stella (Michelle Collins) isn't interested as she can't stand the sight of him after what he's done.
Back at the Alahan residence, Karl breaks down in Sunita's arms as she listens to his woes. As Sunita comforts him, however, Karl draws her in for a kiss…
At the same time, Stella has decided to give Karl a second chance. But when she calls at Sunita's, will she catch them in the act?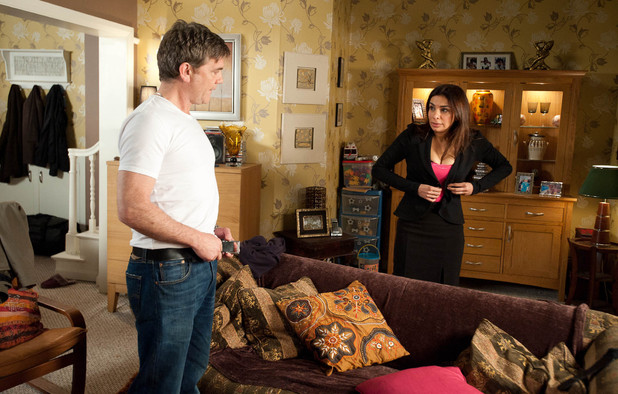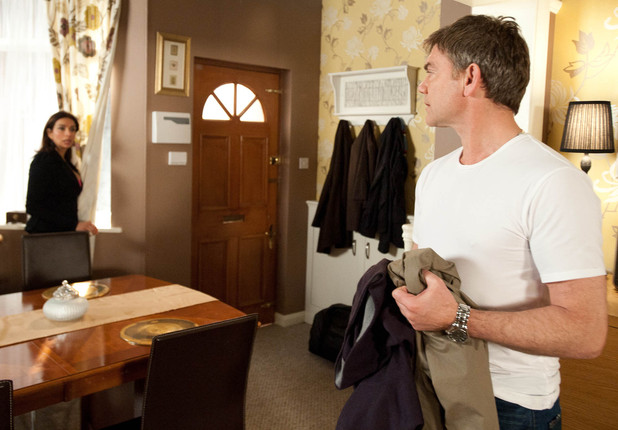 Coronation Street
airs these scenes on Monday, April 9 at 8.30pm on ITV1.
> Coronation Street fan warned me off Karl, says Shobna Gulati
> Coronation Street Michelle Collins tips Stella to stay with Karl
> Coronation Street John Michie interview: 'Sunita intrigues Karl'
> Read more Coronation Street spoilers and news
Coming up in
Emmerdale
, Cameron Murray and Chas Dingle betray Debbie by enjoying a passionate encounter in The Woolpack's cellar.
Sparks continue to fly between the pair in the coming days, until Cameron (Dominic Power) resolves to take things a step further - realising that he can't carry on ignoring his feelings.
Wanting to talk to Chas (Lucy Pargeter) in private, Cameron seizes an opportunity by following her into the pub's cellar as she changes a barrel. Chas insists that they have absolutely nothing to discuss, but when Cameron makes his feelings clear, she's unable to deny that she wants the same thing.
Soon afterwards, Cameron and Chas give into their lust by kissing passionately and tearing each other's clothes off.
However, after sleeping together, the duo are consumed with guilt as they get dressed and quickly agree to a cover story about changing the barrel. Will this be a one-off, or will they embark on an affair?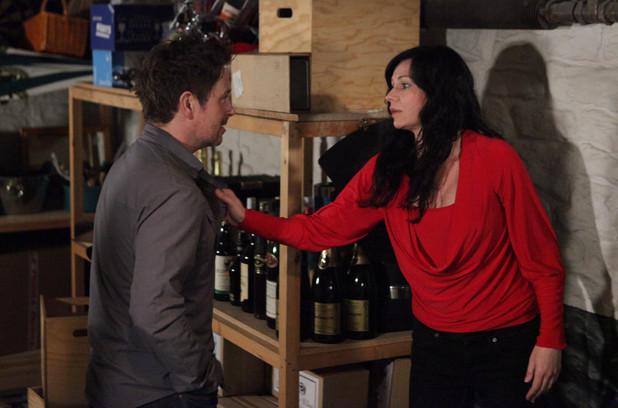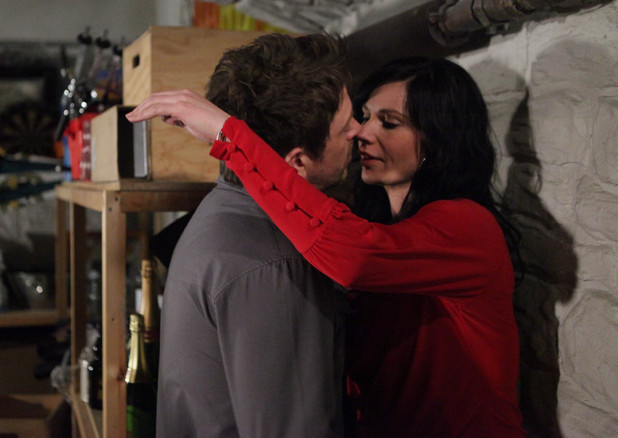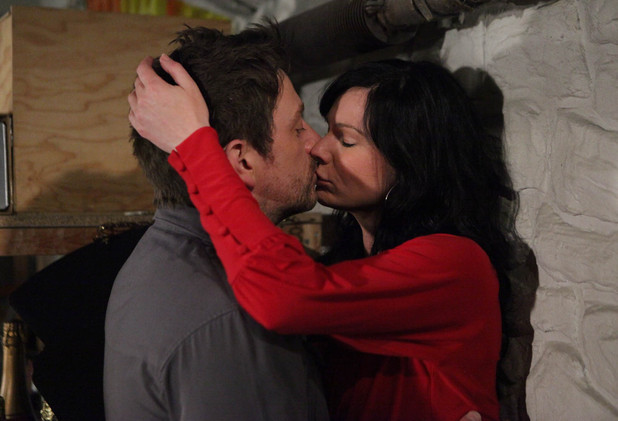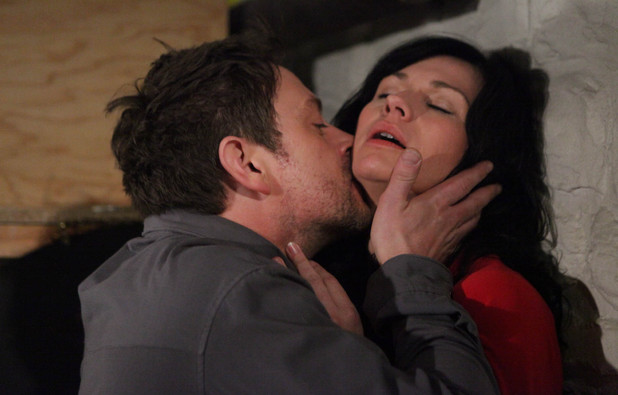 Emmerdale
airs these scenes on Thursday, April 12 at 8pm on ITV1.
> Emmerdale's Dominic Power: 'Cameron, Chas have fireworks'
> Read more Emmerdale spoilers and news
Meanwhile,
Hollyoaks
' Barney Harper-McBride delves into the past of best friend Scott Sabeka as he pays him a visit during the university's Easter break.
Barney (Tom Scurr) is thrilled to be introduced to Scott's world in London living with his nan, but he's in for a few surprises as the trip becomes more eventful than he expected.
Scott (Calvin Demba) takes Barney along to his boxing club and puts him through his paces in the ring, but it soon becomes clear that Scott is hiding something from his past.
Barney discovers that Scott's secret involves an old friend named Mitchell, but when he later starts asking too many questions, Scott flips and storms off. Can Barney get Scott to confide in him?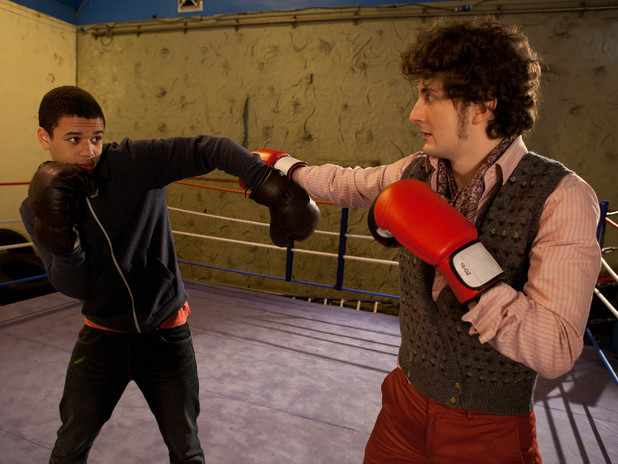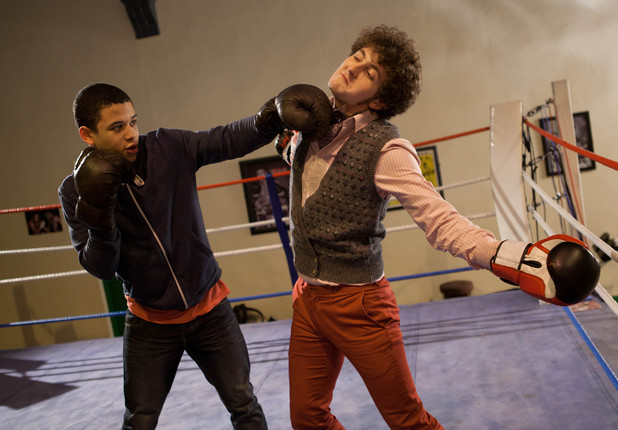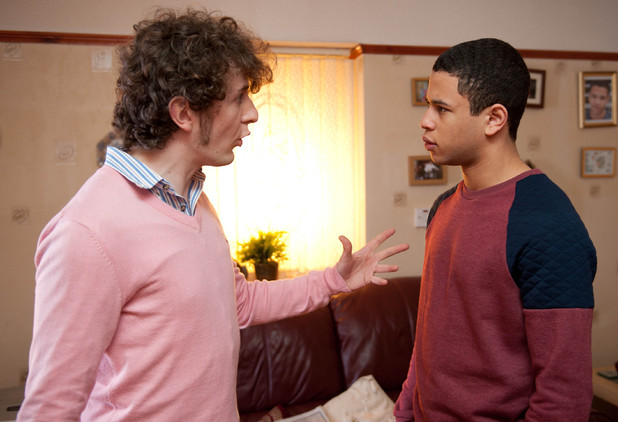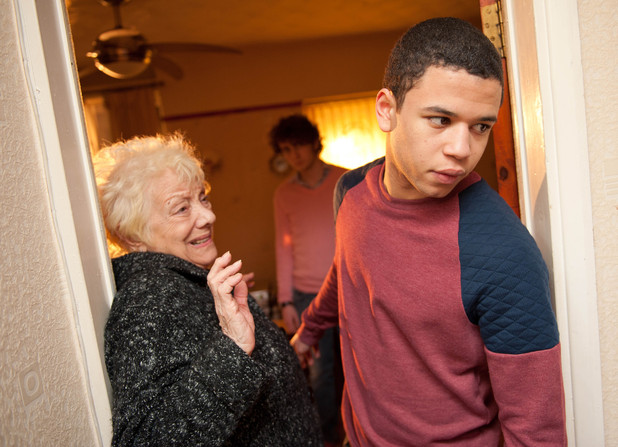 Hollyoaks
airs these scenes on Tuesday, April 10 and Wednesday, April 11 at 6.30pm on Channel 4.
> Read more Hollyoaks spoilers and news
Over on
Doctors
, Julia's new love interest Martin Millar comes under scrutiny as she joins forces with her friends to put him to the test.
Julia (Diane Keen) seems charmed by Martin as their romance story begins next month, but she also fears that the garage owner is hiding something and wonders whether he's really serious about her.
When Julia drunkenly confides in Elaine and Karen, the trio decide to set a honey trap for Martin - with Elaine (Janet Dibley) doing the honours!
The plan is carried out the next day as Elaine approaches Martin at a bar and comes on to him. However, Martin immediately rejects her and instead speaks at length about how great Julia is.
Julia is delighted to hear of Martin's loyalty, but Karen still has her doubts - and Immie gets in on the act by suggesting that they should research him on the internet.
When they do so and find a story citing Martin as an arsonist, they look at each other in horror…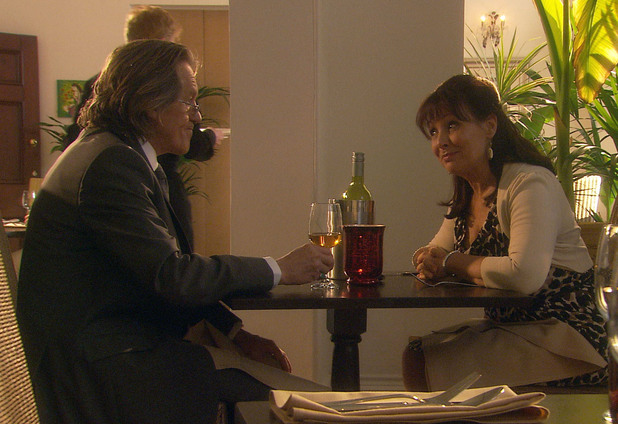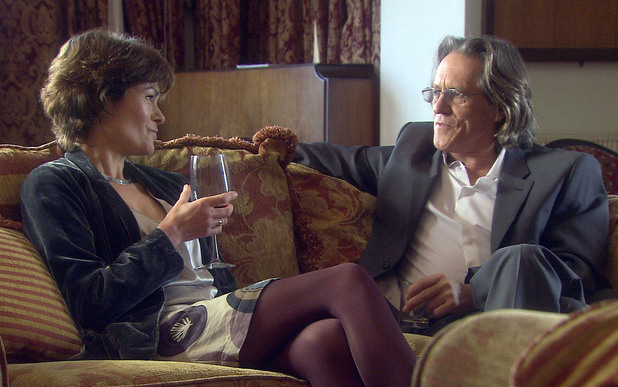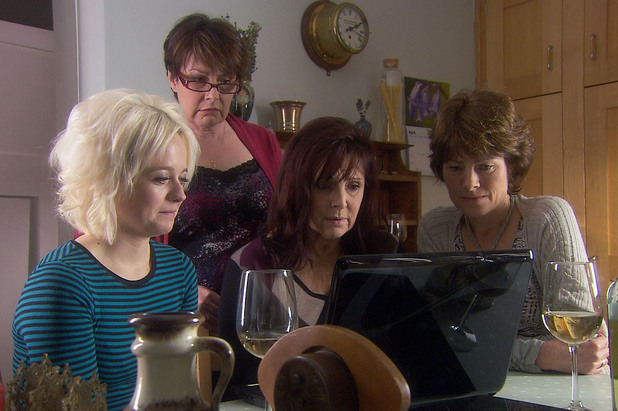 Doctors
airs these scenes on Thursday, April 12 and Friday, April 13 at 1.45pm on BBC One.
> Read more Doctors spoilers and news
Emmerdale
topped our storyline poll last week as
27.7%
of you chose Aaron taking the blame for the fire as the best plot.
EastEnders
came second with
24.1%
with Phil's warning to Derek, while
Coronation Street
followed closely behind with
24.0%
for Paul reaching breaking point with Lesley.
Hollyoaks
took fourth with
22.5%
for Doug's attack, while
Doctors
was fifth with
1.7%
for Julia's new romance storyline.
Don't forget to vote in the poll below and let us know which story sounds best this week!