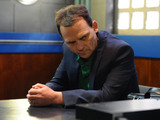 EastEnders
' Billy Mitchell faces tough police questioning over Heather Trott's murder in tonight's (April 13) episode of the soap.
As shown in our unseen pictures below, things don't look good for Billy (
Perry Fenwick
) as he doesn't have anyone to back up his alibi for the night of the murder.
Billy also admits to having an argument with Heather the week before she died, which adds to the suspicion surrounding him.
Although Billy insists that he would never harm Heather, the situation looks increasingly bleak. Will anyone come forward to clear Billy's name?
EastEnders
airs these scenes tonight at 8pm on BBC One.
> Read our spoiler for tonight's EastEnders episode
> Read more EastEnders spoilers and news
Photo gallery - Billy is quizzed by the police over Heather's murder: