51
Soaps News
'EastEnders' affair, Corrie feud, E'dale accident, 'Oaks Carmel
EastEnders
launches Kat Moon's affair storyline next month as viewers see her getting close to a number of Walford's male residents.
As show bosses announced a few weeks ago,
Kat will be cheating on Alfie with a mystery man
throughout the summer, but his identity will remain under wraps for quite some time.
Ray Dixon, Michael Moon and Branning brothers Derek, Jack and Max are the five suspects who have been officially named by the soap's chiefs.
The story begins as Kat (
Jessie Wallace
) takes over the running of the Queen Vic's new football team, deciding that Alfie's approach to recruitment isn't working. However, the landlady's own techniques involve flattery and flirtation as she tries to get punters on board, putting her in close contact with a number of Walford men.
Fans will see bad boy Derek (Jamie Foreman) share more scenes with Kat when he asks her to recruit Joey for the team, keen to keep his estranged son in the area on a more permanent basis.
Derek also appears unusually loyal to Kat when Vivienne - the manager of a rival team - starts bad-mouthing her at the pub. Standing up for Kat, he throws bitchy Vivienne and her entire squad out of The Vic!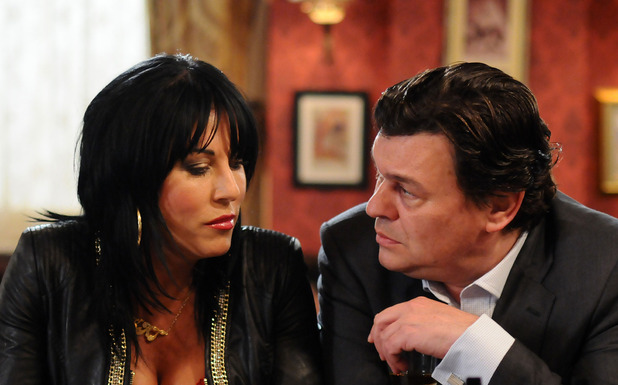 Meanwhile, Kat appears to be on much better terms with Michael (Steve John Shepherd) as she takes him upstairs at The Vic to give him some of Tommy's old baby clothes.
With Michael's newborn daughter still in hospital, the pair share a long, emotional moment - so could there still be a romantic spark between them?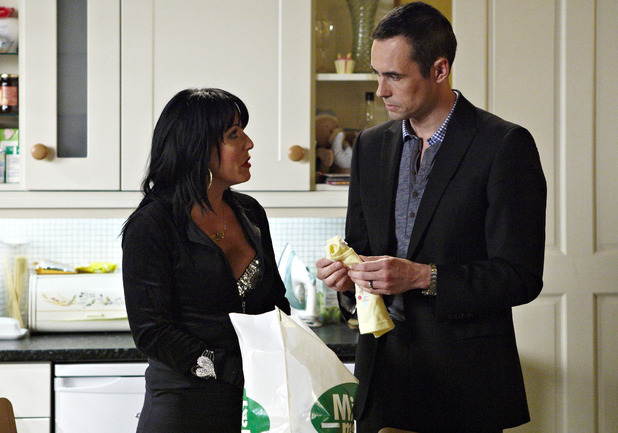 Max (Jake Wood) is also firmly in the mix as he enjoys some flirty banter with Kat outside the pub following the team's first game.
As Kat teases Max about his legs, he appreciates hers - but is it just harmless fun, or could it develop into something more?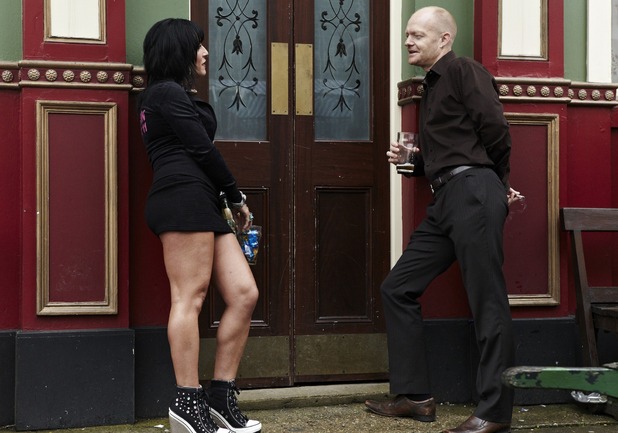 There is also the possibility that Kat and Ray (Chucky Venn) could become more than just friends as they also seem to be getting closer.
At one point, Kat accidentally burns herself on a hot plate in the kitchen - so Ray rushes her over towards the cold tap. With their bodies in close contact, they share a moment of their own.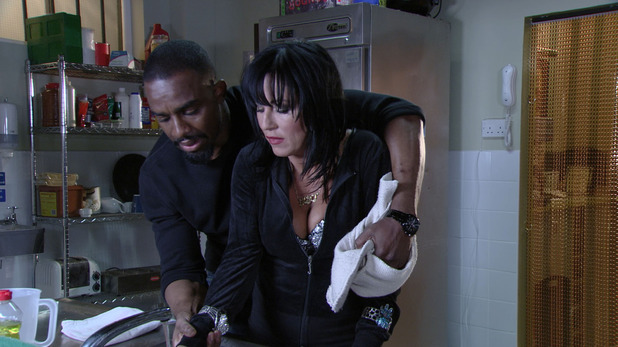 Jack (Scott Maslen) is also spending lots of time at the pub, and fans will know that he and Kat have always got on well - especially in the aftermath of the tragic baby swap.
Kat's affair begins on July 4 as she sleeps with one of the five suspects. However, viewers will be left guessing over which one…
EastEnders
airs these scenes on Monday, July 2, Tuesday, July 3 and Wednesday, July 4 on BBC One.
> 'EastEnders' lines up Kat Moon affair mystery
> 'EastEnders' Kat Moon affair - the suspects
> 'EastEnders': Who will Kat's mystery lover be? - poll
> 'EastEnders' fans expect Kat, Jack affair
> Read more 'EastEnders' spoilers and news
Over on
Coronation Street
, old friends become bitter rivals as Lloyd Mullaney's return to Weatherfield spells trouble for Steve McDonald.
Steve (Simon Gregson) finds Lloyd in an embarrassing situation early next month when he spots that Lloyd has broken down while working in a taxi owned by rival firm Prima. Explaining that the job is a stop gap, a sheepish Lloyd is forced to reveal that he lost most of his money in an ill-advised property deal.
Lloyd (Craig Charles) is delighted when Steve immediately takes pity on him, offering him a spare room at the flat and a place back at Streetcars. The only problem is that Lloyd wrongly assumes Steve wants him back as co-owner rather than just a driver!
Later, Lloyd excitedly tells Steve that the bank has agreed to lend him the money to buy back into Streetcars. However, following a bad day, Steve loses patience - announcing in no uncertain terms that he's not selling shares after the mess Lloyd left him in last time.
As the week continues, events take a strange turn for Steve when several of his clients start calling up to cancel their Streetcars accounts. Steve is shocked to hear that they've all decided to start using a new business called Fare Ladies, which offers better rates and female drivers.
It soon transpires that Lloyd is the mastermind behind the rival company, having used his bank loan to buy a local firm that went bust. Making no apologies for his betrayal, Lloyd reminds Steve that he offered him the chance to go into business and was turned down.
Lloyd's ruthless side continues as he invites Eileen (Sue Cleaver) out for a meal at the Bistro, asking her to quit Streetcars in favour of a higher salary at Fare Ladies.
When Steve interrupts their meeting, he's furious over Lloyd's latest stunt - and a shocked Eileen soon finds herself at the centre of a bidding war between the two men! Where do Eileen's loyalties lie? And will Steve and Lloyd's feud spiral out of control?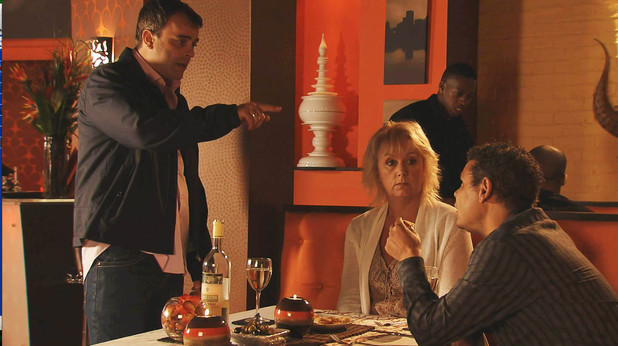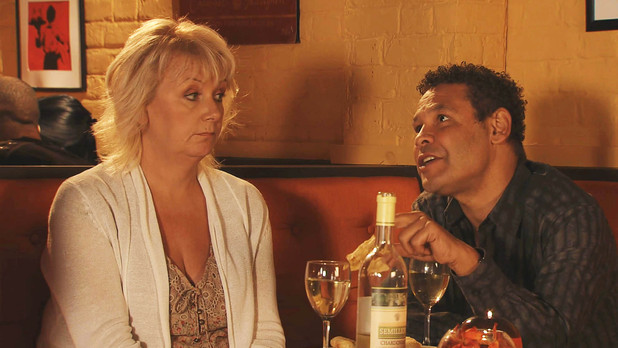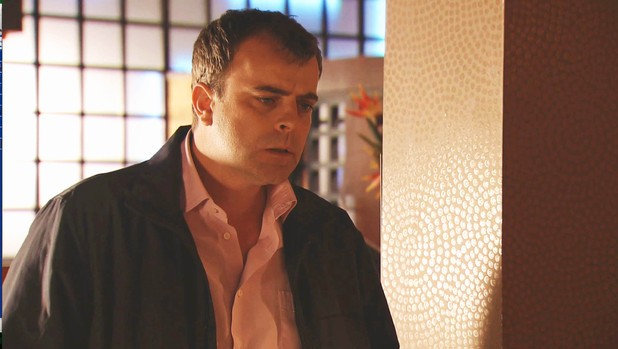 Coronation Street
airs these scenes on Wednesday, July 4 at 7.30pm on ITV1.
> 'Coronation Street's Craig Charles films return episode
> 'Coronation Street' Craig Charles: 'I'm staying on soap'
> Read more 'Coronation Street' spoilers and news
Coming up in
Emmerdale
, pregnant Debbie Dingle is rushed to hospital just as her partner Cameron Murray is planning to flee the village with secret lover Chas.
Cameron (Dominic Power) and Chas (Lucy Pargeter) decide to start a new life together in upcoming episodes, realising that they can't keep sneaking around now that
Gennie knows the truth
and
Cain is watching like a hawk
.
However, as the day of the pair's planned departure arrives, Cain can sense that something is afoot as Cameron seems to be behaving strangely again. Chas tries to cover for Cameron, but Cain won't let it lie.
Later, Debbie (Charley Webb) is furious as Cain continues to question Cameron on what he has been up to. Cameron argues, but is conscious that he needs to be somewhere else as Chas is waiting for him.
The situation soon escalates as Cameron launches himself at Cain. However, Debbie is accidentally knocked over in the violent altercation.
Cameron and Cain immediately stop fighting, rushing to Debbie's aid. As she is taken to hospital, will Debbie and the unborn baby be okay? And what does this mean for Chas and Cameron's escape plan?
Emmerdale
airs these scenes on Thursday, July 5 at 8pm on ITV1.
> 'Emmerdale' Debbie Dingle in hospital dash
> 'Emmerdale' gossip, teasers from producer Stuart Blackburn - interview
> Read more 'Emmerdale' spoilers and news
Meanwhile,
Hollyoaks
favourite Carmel McQueen will continue to struggle with her ongoing injury nightmare early next month.
Carmel (Gemma Merna) remains in hospital in the coming days following her tanning machine accident, which has left her permanently scarred.
As Carmel prepares for an imminent release from hospital, Jacqui pays her sister a visit with Cindy and Nancy in tow.
However, Carmel is devastated by the visit - still reluctant for anybody to see her as she remains in turmoil over her appearance.
It's immediately clear that Carmel doesn't feel ready to leave the relative privacy of the hospital, and her loved ones struggle to talk her round.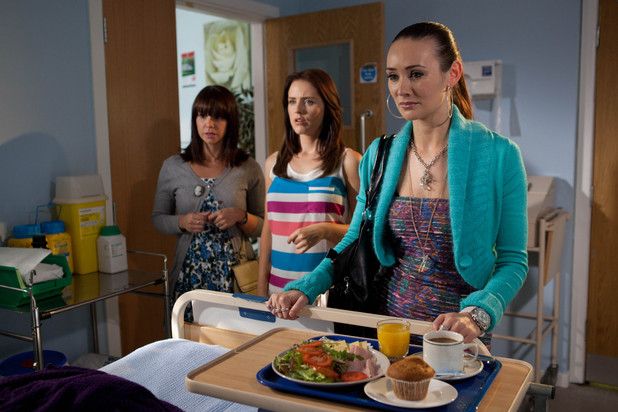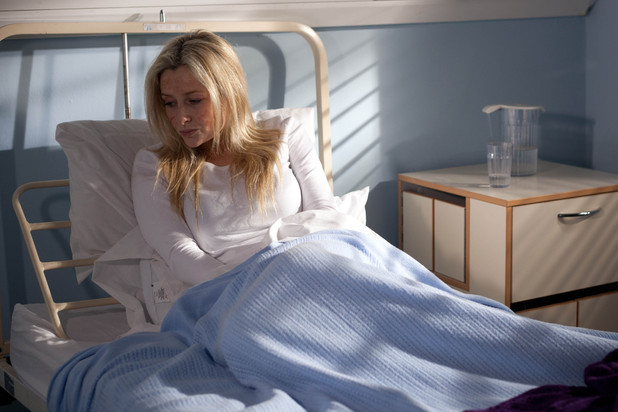 Amy Barnes's Australian boyfriend Ally later gets involved in the situation, introducing Carmel to some of his army buddies. As Carmel finally realises how much she has to live for, has she finally reached a big turning point?
Hollyoaks
airs these scenes on Tuesday, July 3 and Thursday, July 5 at 6.30pm on Channel 4.
Hollyoaks
fans should also take note that the week commencing Monday, July 2 sees a
must-see storyline
airing - but the details will largely be kept under wraps until broadcast…
> Read more 'Hollyoaks' spoilers and newsThere are no Doctors pictures this week due to the show's current transmission break.
Hollyoaks
was the runaway winner of our storyline poll last week as
63.7%
of you chose Mercedes's stabbing as the best plot.
Coronation Street
came second with
21.2%
for Nick and Leanne's reunion, while
EastEnders
took third with
8.7%
for Kat and Alfie's money worries.
Emmerdale
was fourth with
6.4%
for Val accidentally injuring Eric.
Don't forget to vote in the poll below and let us know which storyline sounds best this week!
Get the Inside Soap magazine on your iPhone or iPad