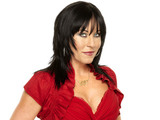 EastEnders
viewers saw Kat Moon's affair plot officially begin last night (July 4)
as she succumbed to the advances of a mystery man at the Queen Vic
.
Kat (
Jessie Wallace
) has enjoyed flirting with a number of the locals in recent days, but it's clear that one in particular has caught her eye - kicking off
a big storyline which will run throughout the summer and into autumn
.
Derek, Jack, Max, Michael and Ray have been
officially named as the main five suspects in the mystery
.
When the story was announced a month ago, we asked you to vote on who Kat's lover would be -
and Jack quickly emerged as the early favourite
.
Now that the plot is under way and the clues and red herrings are beginning to come through, we're keen to find out whether Jack is still the top suspect or if our readers' theories have changed.
Vote in the new poll below to have your say!
> 'EastEnders' lines up Kat Moon affair mystery
> 'EastEnders' Kat Moon affair - the suspects
> 'EastEnders' Jessie Wallace: 'Kat affair plot is exciting'
> 'EastEnders' Chucky Venn: 'Ray may have a dark side'
> 'EastEnders' spoilers and news on Digital Spy