This is a first look at the drama in store on
EastEnders
as Shirley Carter finally discovers the horrible truth about Heather Trott's murder.
Last night (August 14), viewers saw
Shirley decide that her fiancé Phil must have killed Heather
, as all evidence pointed to the culprit living at the Mitchell house.
However, in an explosive episode airing this evening (August 15), a horrified Shirley (
Linda Henry
) is left in the dark no longer as she learns that Ben has been the guilty party all along.
As tonight's episode begins, Ben (Joshua Pascoe) is desperate for his father not to get the blame for a crime he committed, so he gives Shirley a long list of reasons why it couldn't have been Phil.
However, in doing so, the twisted teenager lets slip a vital piece of information that makes Shirley realise it was Ben who killed her best friend.
As the truth finally emerges, Shirley decides to make Ben pay for what he has done as they have a huge showdown upstairs in the bathroom…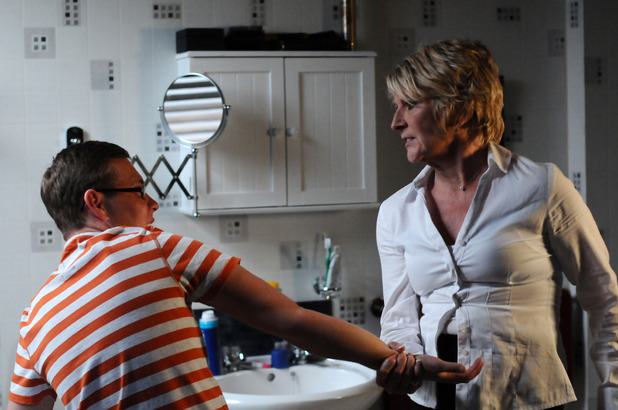 EastEnders
airs tonight at 7.30pm on BBC One.
> Read our spoiler for tonight's dramatic 'EastEnders' episode
> Read more 'EastEnders' spoilers and news