EastEnders
schemer Janine Butcher resorts to desperate measures with new husband Michael Moon later this month as she tries to test his loyalty once and for all.
Janine (
Charlie Brooks
) tries her best to trust Michael (Steve John Shepherd) in the coming days, but this proves impossible when he keeps disappearing from their house in the middle of the night for reasons unknown.
Keen to give her marriage a chance despite her suspicions, Janine decides that drastic action is needed to find out whether Michael really loves her, or whether he's only interested in her fortune.
When Michael returns home from work one evening, he is surprised to find Janine with a suitcase. She immediately orders him to open it, claiming that it contains everything he's ever desired.
As Michael looks inside, he is flabbergasted to find that the suitcase contains hundreds of thousands of pounds.
Issuing a life-changing ultimatum, Janine declares that Michael must choose between her and the money: If it's still there by dawn, she'll know he really loves her, but if he has left with the cash, she'll know he never did. What will Michael decide?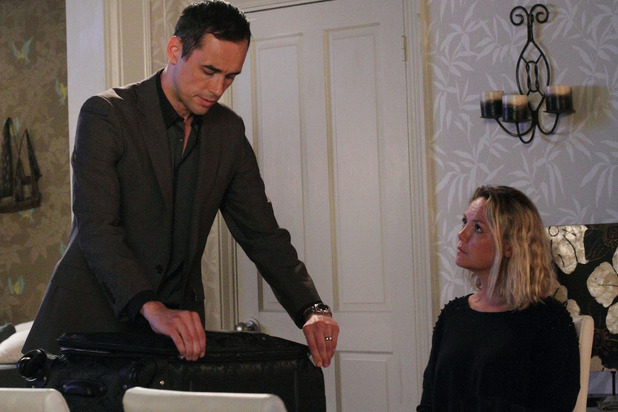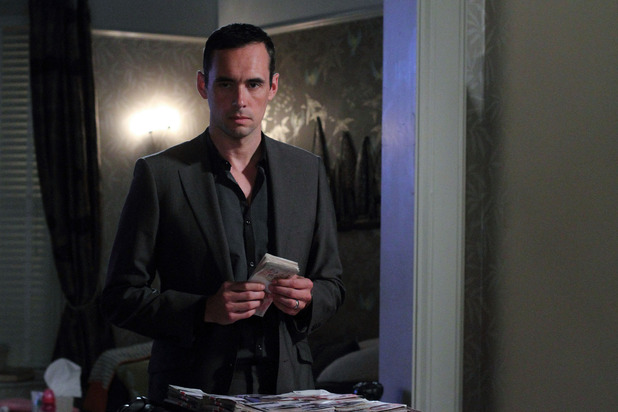 EastEnders
airs these scenes on Thursday, September 13 at 7.30pm and Friday, September 14 at 8pm on BBC One.
> 'EastEnders' Charlie Brooks to take soap break
> 'EastEnders' Charlie Brooks explains soap break
> 'EastEnders': Janine exit storyline revealed
> Read more 'EastEnders' spoilers and news
Over on
Coronation Street
, Kirsty Soames goes into labour at the Rovers Return following another furious argument with arch-enemy Tina McIntyre.
Tina (Michelle Keegan) is left raging in upcoming episodes when a vengeful Kirsty takes their long-running feud to the next level, going all-out to cause trouble for her and Tommy.
The final straw comes when Kirsty (Natalie Gumede) hatches a plan to make Tina and Tommy homeless, by informing a house-hunting Julie that Jason is planning to sell the flat.
Julie decides that the flat would be perfect when she arrives for an impromptu viewing, but Tina isn't best pleased when she hears that Kirsty gave her the idea.
When Jason later resolves to accept Julie's offer for the flat, Tina is unable to keep a lid on her temper any longer. Tracking Kirsty down at The Rovers, the feisty barmaid is ready for a showdown.
Tina flies at Kirsty all guns blazing in front of the shocked punters, but the row takes an unexpected turn as Kirsty's waters break.
With the baby coming quickly, Kirsty is forced to give birth at the pub - while Tina finds herself under attack from all quarters over her rash actions…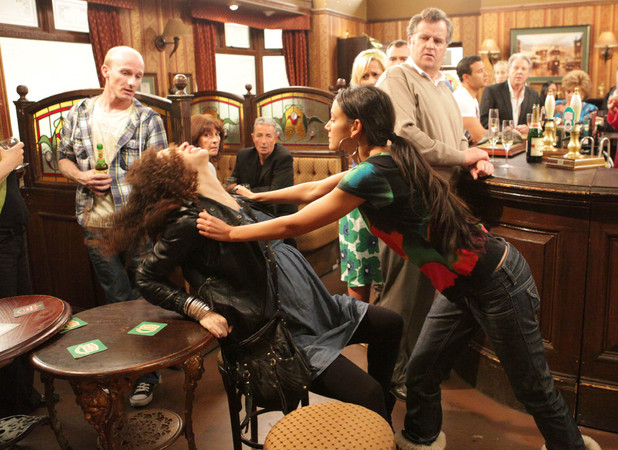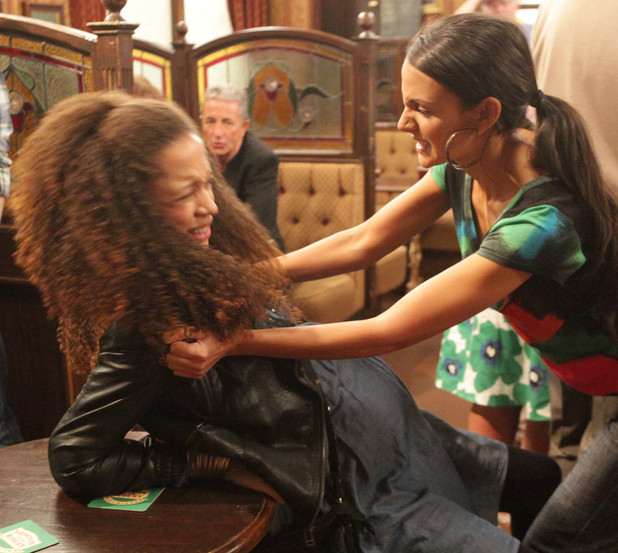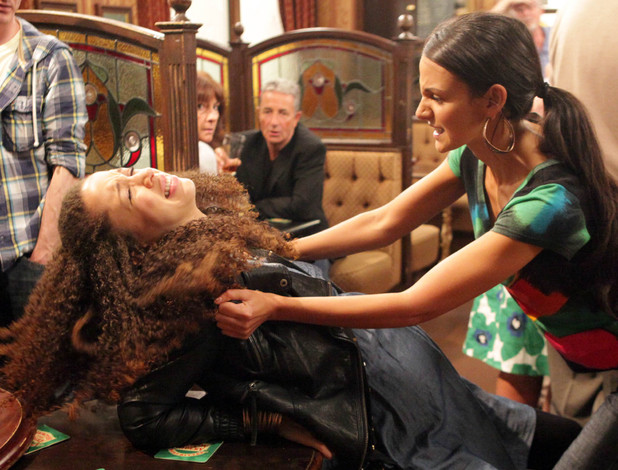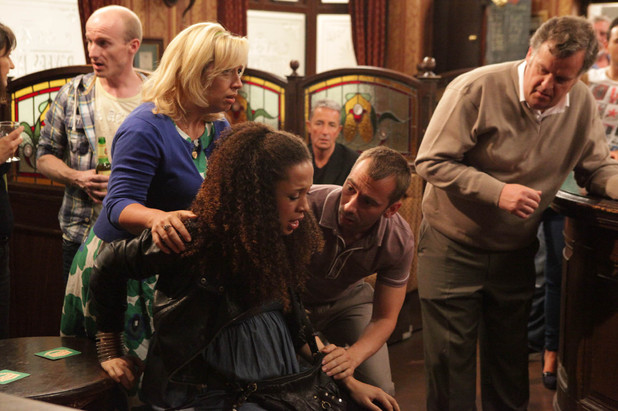 Coronation Street
screens these scenes in an
hour-long episode
airing on Sunday, September 8 from 7pm on ITV1.
> 'Coronation Street' star Natalie Gumede talks Kirsty labour scenes
> Corrie's Michelle Keegan on Kirsty labour: 'Tina feels so guilty'
> 'Coronation Street's Kirsty, Tyrone face more drama after baby's birth
> 'Coronation Street' Kirsty to devastate Tyrone with baby bombshell
> Read more 'Coronation Street' spoilers and news
Coming up on
Emmerdale
, Adam Barton is in for a shock when he learns of his mother Moira's fling with farmhand Alex Moss.
Moira (Natalie J Robb) and Alex appear to have played with fire once too often later this month when Andy Sugden walks in on them kissing.
Horrified to see that Alex is two-timing Victoria (Isabel Hodgins), Andy puts him under strict instructions to end things with her again - and to make sure he lets her down gently.
When Alex later tells Victoria that it's over between them, she is adamant that he must have another woman. Andy and Moira attempt to calm Victoria, but she carries on pushing, until eventually Moira steps in and admits that she is the other woman!
With a furious Victoria on the warpath, Moira attempts to get Adam alone to break the news to him.
Unfortunately for Moira, Victoria beats her to it - announcing the relationship to Adam and the entire pub! How will Adam and the locals react?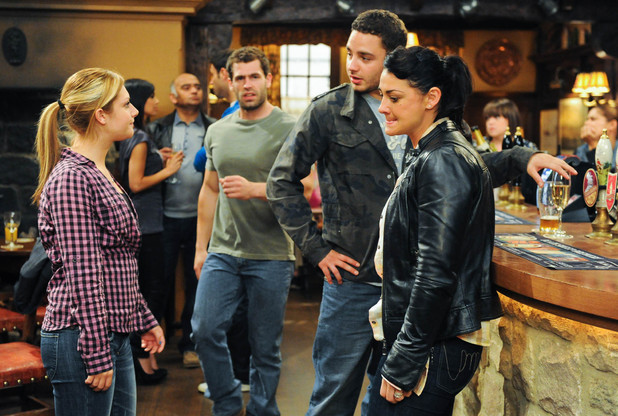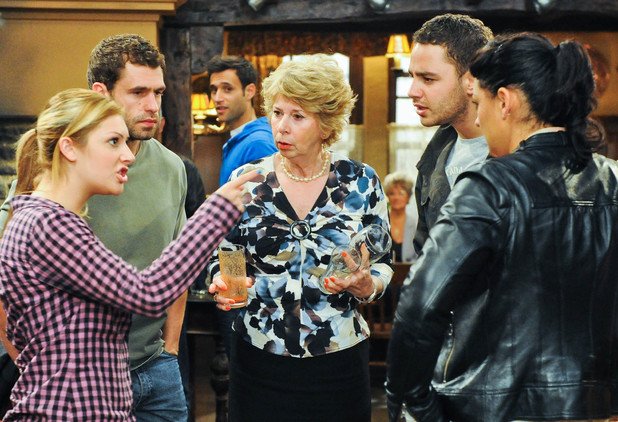 Emmerdale
airs these scenes on Monday, September 10 at 7pm on ITV1.
> 'Emmerdale' Kelvin Fletcher: 'Moira admits her fling'
> Read more 'Emmerdale' spoilers and news
Meanwhile, here's a look at the moment that
Hollyoaks
matriarch Myra McQueen finally gets suspicious over her daughter Mercedes's recent lies.
Mercedes's wicked scheme to frame Mitzeee (Rachel Shenton) for attempted murder finally has its desired outcome later this month as the troubled glamour girl is sentenced.
As Mitzeee hears how long she'll be spending behind bars, Mercedes (Jennifer Metcalfe) continues to play the part of an innocent victim to perfection.
Soon afterwards, though, a triumphant Mercedes can't resist giving Mitzeee a secret smile as she watches on from the gallery - making it clear that she's got exactly what she wanted.
Mitzeee starts to lose control when she sees Mercedes's smug expression - but as Myra (Nicole Barber-Lane) watches closely, she can sense that something is amiss.
It's not long before a shrewd Myra realises that Mercedes has sent an innocent woman to jail, but will she do anything about it?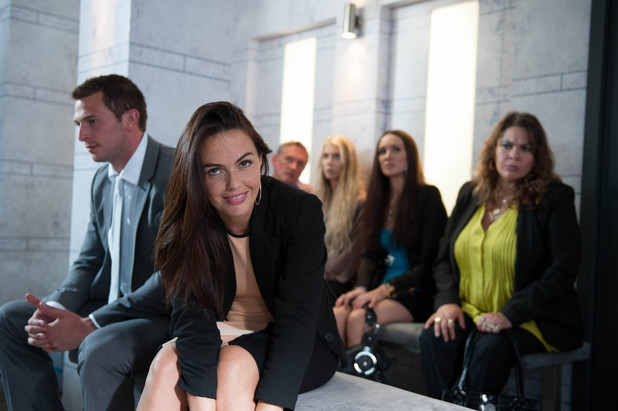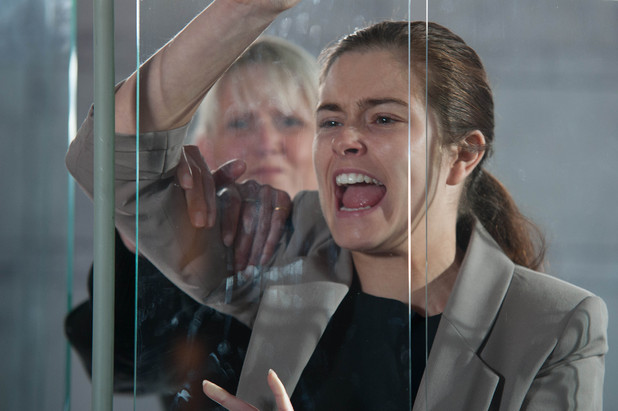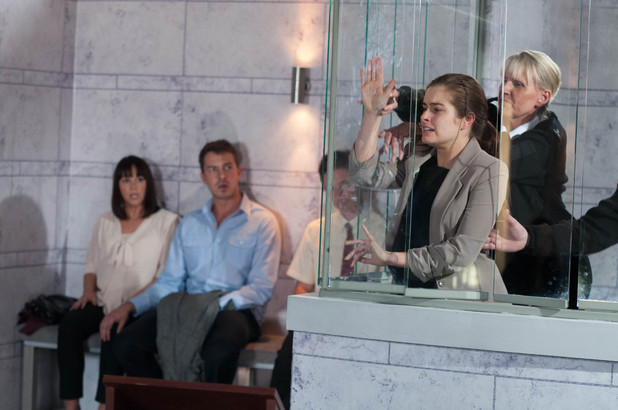 If it wasn't enough for Mercedes to have Myra on her case, she also has to contend with loyal Nancy Osborne (Jessica Fox) - who is still determined to prove that good friend Mitzeee has been innocent all along.
Paying a visit to Mitzeee in prison, Nancy urges her to remember what happened on the day of the stabbing. However, prison life is taking its toll on Mitzeee and she seems to be losing her grip on reality altogether - is there any hope left for her?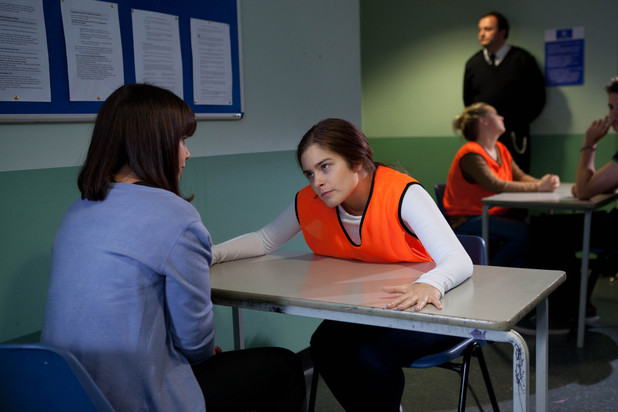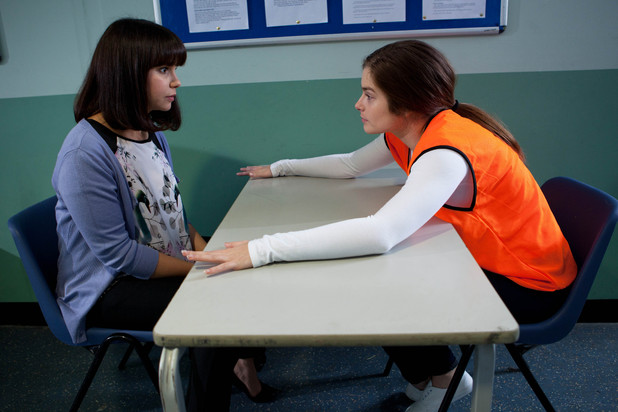 Hollyoaks
airs these scenes on Tuesday, September 11 and Thursday, September 13 at 6.30pm on Channel 4.
> Read the latest 'Hollyoaks' spoilers and news
Over on
Doctors
, life for Daniel Granger goes from bad to worse as he makes another big mistake and continues to push people away.
Still struggling following Zara's departure, Daniel (Matthew Chambers) invites Kevin to come out on the pull with him. While out enjoying himself, it seems that Daniel has lost his touch with the ladies - but he soon attracts the attention of a 29-year-old woman named Antonia.
When Daniel takes Antonia home, however, it becomes clear that she intends to charge him for sleeping with her. Despite having misread the situation, Daniel asks her to stay and hands her one of Zara's nightdresses to wear.
Daniel is horrified the next morning when Zara's father Jed pays a visit with a list of various things that his daughter needs. Although Daniel tries to get rid of Jed, it's not soon enough as an underwear-clad Antonia appears and demands her payment!
At work, Daniel is in a foul mood and is convinced that he's lost Zara for good. Snapping at both Kevin and Jimmi, it seems that Daniel is in danger of losing friends fast…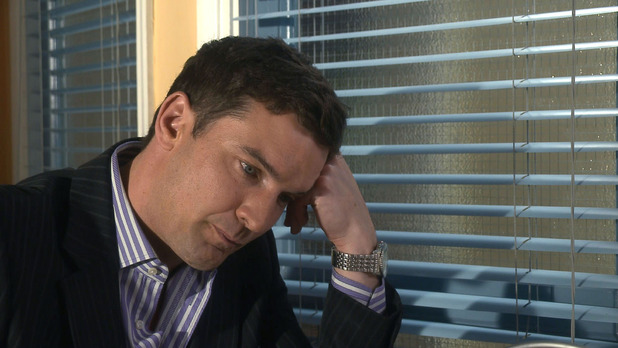 Doctors
airs these scenes on Thursday, September 13 and Friday, September 14 at 1.45pm on BBC One.
> Read the latest 'Doctors' spoilers and news
Hollyoaks
was the winner of our storyline poll last week as
34.4%
of you chose Jack's heart attack as the best plot.
EastEnders
came second with
31.4%
for Tanya wanting to be friends with Sharon, while
Coronation Street
came third with
25.2%
for Ryan's robbery attempt.
Emmerdale
claimed fourth with
5.6%
for Andy and Kerry growing closer, while
Doctors
was fifth with
3.5%
for the latest Daniel/Cherry/Jimmi dramas.
Don't forget to vote in the poll below and let us know which storyline sounds best this week!